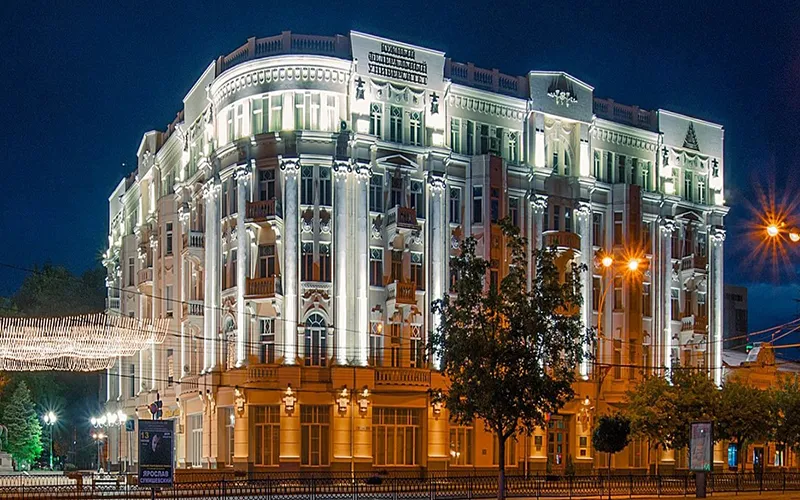 Southern Federal University
About University
Southern Federal University was established in the year 1915. It is one of the Ten Federal Universities of Russia. The university was formerly known as Rostov State University. It is a public university in Rostov Oblast, Russia. It has two campuses in Rostov and Taganrog.
Southern Federal University is a leading university in the field of innovations and research. It is a well-established university providing diverse opportunities for education to all aspirants. Over the years, the university has gained a strong reputation and has achieved various awards including Noble Prize. In 2017, it was ranked within 801-1000 band globally by the Times Higher Education.
Southern Federal University offers education in line with that of the international standard. It is affiliated with highly-reputed universities and research centers worldwide. Through it, the university welcomes various international exchange programs.
In 2010, the university acquired the status of an autonomous educational institution.
The University's position in the national university rankings provides persuasive evidence of its achievements, a positive image, and a passion for excellence: SFedU was awarded 5th place in the Annual Independent National University Rankings.
Southern Federal University is equipped with advanced technology and infrastructure for increased efficiency of professional and research training.
Students studying at the university are given a chance to experience exchange programs at different international universities. Up-to-date, there are 97 foreign partners that are in collaboration with the university
Institute of High Technology and Piezo Engineering
Institute of Computer Technologies and Information Security
Institute of Nanotechnology, Electronics, and Instrumentation
Institute of Radio Systems and Control
Research Institute for Multiprocessing systems to them. A.V. Kalyaeva (Research Institute MVS)
International Research Center "Intellectual Materials"
Research Institute of Robotics and Control Processes
Research Technology Neurotechnology Center
Students of Southern Federal University live in a residence hall on both campuses. These campuses are well equipped with modern facilities such as reading halls and computer rooms, laundry services, fitness facilities and sports grounds, cafeterias. Rooms are assigned for 2 or 3 person sharings and also mess facilities.
The university also has a library with various collections of books and journals for the students, staff, and researchers.
SFedU is mainly focused on promoting student's well-being. It helps students become more responsible, sensible, independent, open-minded, and socially aware. There are many sports clubs, cultural centers, and other centers specifically introduced for the development of the students as well as to improve the student's lifestyle.
Students also take pride in various international sports competitions and championships.
Bachelor's Degree Programs (4 Years)
 
Tution Fee (In RUB)

Hostel Fee

(In USD)

Medical Insurance

(In USD)

First Year
1,29,000
500
250
Second Year
1,29,000
500
250
Third Year
1,29,000
500
250
Forth Year
1,29,000
500
250
Total Fee
5,16,000
2000
1000
Master's Degree Programs (2 Years)
 
Tution Fee (In RUB)

Hostel Fee

(In USD)

Medical Insurance

(In USD)

First Year
1,53,000
500
250
Second Year
1,53,000
500
250
Total Fee
3,06,000
1000
500
NOTE: The above-mentioned fee structure is the final amount to be paid by the student to Rus Education. This fee package includes Tuition fee, Hostel accommodation fee, medical insurance, remuneration to the center, MCI coaching for the complete duration of the course, airport transfer to the university, a phone call to parents on arrival in the university, study material in English Language, documentation of the student in the university, free translator to facilitate, and other services.