Living As Student In Russia
Student Life in Russia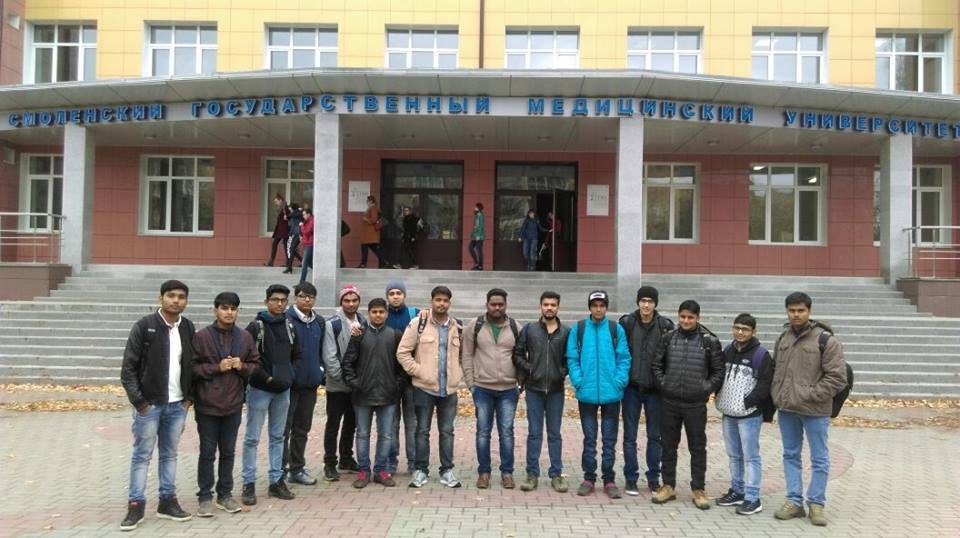 With every one in ten Indian students dreaming of becoming excellent doctors, a good rush of medical aspirants is moving out of India in search of good medical education opportunities abroad. Among the popular countries to study MBBS abroad, Russia stands in a prominent position having over 10,000 Indian students joining Russian medical universities every year. MBBS in Russia for Indian students is a gateway to a successful medical career as the medical institutions in Russia promise a comfortable, healthy, and growing environment to their international students. 
Student life in Russia is colorful, multicultural, and full of opportunities for Indian students. Russian medical universities take special care of their international students during their stay in Russia. They have an edge in over-delivering quality in medical education, infrastructure, learning, and development to all students. Right from ensuring their comfort in student accommodation facilities to encouraging their participation in international seminars and conferences to the celebration of festivals of various countries at the universities, the multifaceted student life in Russia is so much more than meets the eye.
Medical Education in Russia
Russia is home to 25+ medical universities recognized by the National Medical Commission (erstwhile Medical Council of India), having 10,000+ Indian students of medicine. The Russian medical universities are engaged in training doctors and specialists in all areas of modern medicine, from general medicine to radiology. They provide a constructive learning environment to their students to help them discover and follow their academic and non-academic interests. 
 Medical education in Russia is a perfect blend of theoretical classes in advanced classrooms, practicals in university laboratories, and clinical training in the hospitals affiliated with the universities. The average annual hostel fees in Russia is $300 for Indian students. 
Here are some best features of Russian education system:
Students of MBBS in Russia get to participate in the international conferences, seminars, debates, etc. 

Modern teaching methodology

like peer tutoring and group tutoring

is utilized to impart medical studies to international students.

Medical studies are taught in English for the convenience of Indian students.

Scholarships are offered to deserving students by several universities of Russia.

Simulation centers with robots in many Russian universities provide real-life experiences to students and enhance their patient communication skills. 

Students get to learn Russian during their MBBS course in Russia for smooth communication with patients during the clinical rotations.

Various options of specialities are available to students.

The faculty members, lecturers, and professors are highly-qualified and experienced doctors for better teaching lessons.

FMGE/NExT coaching by Indian professors and doctors is an add-on feature in the Russian education system for Indian students.

Students practice lessons of anatomy, physiology, pathology, etc., in well-equipped laboratories and simulation centers of the universities.

All universities in Russia have resourceful libraries stacked with good medical books, journals, magazines, research papers, study materials, etc.
The accommodation of international students is the topmost priority of medical universities in Russia to ensure the comfort and convenience of international students. As the vast majority of students of MBBS in Russia are from other countries, special on-campus hostel facilities are available in almost all Russian universities to ensure their pleasant stay in Russia.
On an average, every medical university in Russia has 5-6 hostel buildings to accommodate

international students

.

The hostels are fully-furnished with beds, tables, chairs, wardrobes, mattresses, bedsheets, pillows, etc.

Hostel rooms are available on a twin sharing basis. 

Single rooms are also available with extra hostel charges.

Some universities have attached kitchens to their dormitories where students can cook.

There is a 24*7 water supply in the hostels.

Internet/WiFi facilities are available for students in hostels.

The university campuses, including hostels, have round-the-clock CCTV surveillance for the safety and security of students. 

Sanitation and hygiene is taken care of in the bathrooms and washrooms of the hostels.
Rus Education takes care of the arrangement of comfortable hostel facilities for Indian students at Russian medical universities associated with it. The organization has appointed representatives in all Russian universities to provide real-time assistance to students.
One of the biggest worries of Indian parents of students moving to study MBBS in Russia is whether their children will get good Indian food in the foreign country. As it will be difficult for Indian students to adjust to the new cuisine, Rus Education has set up special Indian mess facilities with Indian cooks in all the associated medical universities in Russia. Now, Indian MBBS students can enjoy the flavorsome Indian food smeared in fragrant Indian spices while studying medicine in Russia.
Extracurricular Activities
The holistic development of students holds immense importance for Russian medical universities. The universities of Russia not just prioritize the academic growth of the students, but also equally emphasize various co-curricular and extracurricular activities. 
Various academic and sports activities are organized by universities for their MBBS students for their mental and physical development.

The universities have various sports complexes, theaters, studios, etc., to promote holistic learning among the students.  

Most of the medical universities of Russia have several education clubs and groups for their students. 

Excursions are also organized for students by the universities to break the routine and promote teamwork among the students.

Sports tournaments and competitions in cricket, basketball, badminton, baseball, etc., are organized in Russian medical universities. 

The promotion of students' participation in international conferences, seminars, debates, etc., for knowledge and personality development. 

Swimming pools and gyms are a part of many Russian universities for students. 

From the scenic landscapes, museums, water bodies, and crystal caves to the mysterious mountains and forest, the students can indulge in these recreational activities.
Cultural Life of Students in Russia
Russia has a vast international student diaspora contributing to a multicultural, vibrant student life. Medical universities in Russia have MBBS students from 20+ countries, including India, Pakistan, the USA, the UK, Canada, Australia, Nepal, and others bringing together the cultures of these nations all under a single roof. Such an intermingling of cultures leads to a multicultural environment at these medical institutions where there is no end to the celebrations. 
Magnificent celebrations of Indian festivals like Holi, Diwali, Durga Puja, Navratri, etc., for Indian students.

Students participate in all the festive celebrations at the university. 

Interaction with the students of other countries enhances your communication skills.

Students get to learn the cultures and traditions of other countries.

The cultural events witness students dressed in their traditional attires. 

Annual functions of the universities are noteworthy events with all the students exhibiting the cultures of their countries.
Russia has a continental climate with long and cold winters and short summers. The extreme cold weather conditions in Russia pose a challenge for Indian students taking a toll on their health. However, as time passes, international students adjust to the weather and climate of Russia. The hostels of the universities have hot water supplies for their students. In case of medical emergencies, Indian students can reach out to the team of Rus Education and avail of necessary aid.
Furthermore, students can enjoy the beautiful snow covered landscapes of the country with their friends during their stay in Russia.
Duration of MBBS in Russia is six years which includes one year of clinical rotations in the hospitals affiliated with the universities. It is the final stage in the MBBS journey of the students to become a global medical practitioner. There are many possibilities and broad exposure  expected during clinical practice due to the presence of highly-equipped hospitals in metro cities of Russia.
During this time, students work under the guidance of professional doctors in hospitals, interact with patients, diagnose health issues, and suggest treatments. Closely working in a hospital setup gives them the right exposure to support their journey of becoming world-class doctors.
Observership Programs in India
Indian MBBS students of Russian universities enjoy the opportunity to enroll in student observership programs in India and get practical exposure in Indian hospitals. This is a great chance for Indian students seeking to practice medicine in India after their graduation.
Challenges Faced By Indian Students of MBBS in Russia
Russia promises a pleasant stay to Indian students who have joined Russian medical universities to study MBBS in Russia. However, moving to a new country for the first time without your loved ones can be challenging in many ways.
Language barrier:

Russian is the official language of Russia, and Indian students who don't know how to speak Russian may find it hard to communicate with the local students. However, this issue is only short-lived.

The NMC-recognized medical universities in Russia have English as the medium of teaching for the convenience of Indian students. Moreover, Russian language is part of the medicine curriculum to ensure hassle-free communication of Indian students with patients during their clinical practice. 

Severe climatic conditions:

Russia is a cold country with the dominance of the continental climate. The average temperature of Russia ranges from a low of 18° F in winter to a high of 75° F in summer. There is frequent snowfall throughout the year, with temperatures falling below zero degrees for almost 3 to 5 months. However, most Russian universities have a centralized heating system for comfortable living within the university campuses for students.

 

Food:

Food is a common concern of most of the Indian parents who send their children to study MBBS in Russia. Therefore, Rus Education has set up special Indian mess facilities in medical universities in Russia where delicious and hygienic Indian food is served.

Cultural differences:

Russian culture is more western and modern than Indian culture and traditions. The festivals celebrated in Russia have a contemporary touch, whereas Indian festivals are traditional. Indian students studying medicine in Russia may take time to adjust to the new culture. Russian medical universities with Indian students exhibit a multicultural environment and celebrate all Indian festivals like Diwali, Holi, Navratri, Durga Puja, etc.

 

Safety of students:

Safety is one of the biggest concerns for Indian students of MBBS in Russia. Moving to a new country may involve risks, and a lack of information about the country can be life-threatening.

However, Russia is a safe country with low crime rates. Moreover, Russian medical universities take all necessary safety measures for their students and have round-the-clock security in and around the university campuses. 

FMGE/NExT to practice medicine in India:

According to the NMC guidelines for foreign medical graduates, all Indian medical students of MBBS in Russia have to appear and clear the

medical licensing exam

of FMGE/NExT exam to practice medicine in India. To make this possible for Indian students, Russian medical universities arrange on-campus FMGE coaching classes by renowned Indian doctors and professors. 

Hostel accommodation:

Most medical universities in Russia provide hostel accommodation to international students on a sharing basis. Not all students are comfortable sharing rooms with other students, and prefer a single hostel room. This would cost them more. Choosing a shared hostel room is more cost-friendly and improves your cooperation skills.
How does Rus Education ensure a comfortable student life in Russia?
Rus Education has been a top overseas education facilitator in India engaged in making MBBS in Russia a possible dream for Indian students. The organization is driven to make the life of students in Russia comfortable and hassle-free through its endeavors. To achieve this organizational goal, Rus Education is associated with several top medical universities of Russia, such as Orenburg State Medical University, Perm State Medical University, and Mari State University, having recognitions from the National Medical Commission. 
Rus Education, along with the support of its partered Russian universities,  has taken the following measures to make student life in Russia a wonderful experience.
Separate, fully-furnished hostel accommodation for Indian students equipped with all the basic facilities. 

Indian mess facilities for Indian students where delicious and hygienic Indian food is served. 

FMGE/NExT coaching classes for Indian students by famous doctors and professors from India. 

Hire well-qualified Indian teachers and professors to teach medicine to Indian students in English.

Assist Russian universities in collaboration with Indian hospitals and universities for student exchange programs, observership programs, etc.

Provide any other additional support to Indian students during their stay in Russia.