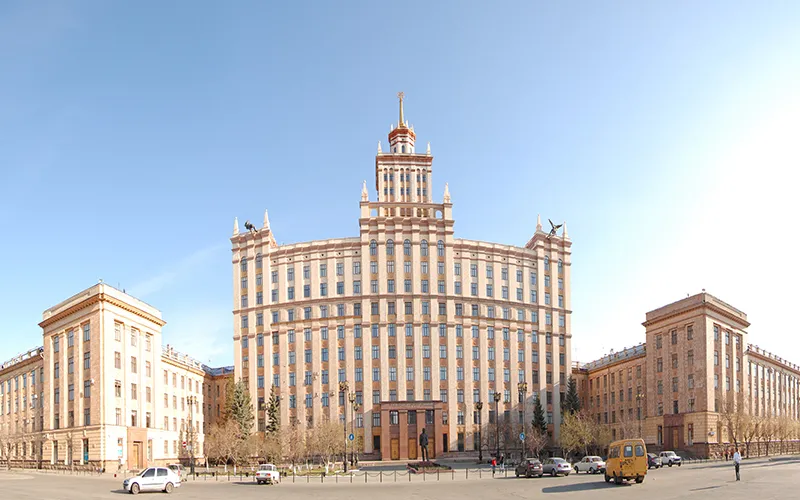 South Ural State Engineering
About University
The University was established in 1943 with a former name of Chelyabinsk Mechanical Engineering Institute (CMEI) and later on South Ural State University (SUSU) came into existence on 1997. The University describes itself as the "Smart University Delivering Sustainability for Ural".
As far as Rankings concerned, University is ranked #801-1000 by the QS World University Rankings 2019, #135 by QS-EECA, #112 by BRICS and under 301+ Top Universities by Times Higher Education.
University offers 240 bachelor's programs, 150 master's programs, 24 specialist programs and 86 post-graduate studies at SUSU. It offers 10 programs in English language and conducts 150 annual internships abroad. Keeping everything aside for once, this University is considered as one of the best Universities in Russia for pursuing MBBS in Russia. Here students create their own modern means of education. It constitutes a total number of 31,173 students studying at different faculties of the University, out of which 2000+ are international students from 48 countries across the globe. University
This is a multidisciplinary educational institution which is famous for its scientific achievements, high educational preparation level, fundamental and academic basis, material and technical facility for the purposes of research activities and educational process.Today SUSU is a platform of innovative developments, a starting point for modern youth, for a generation of ambitious and self-confident people, their challenging ideas and projects.
School of Electronics Engineering and Computer Science offers following Bachelor's Degree Programs:
Aircraft control systems
Computer Science and Computer engineering, Field of Computer Engineering, Complexes, Systems and Networks
Computer science and Computers, Field of Automated Business Process and Finance Management
Design and Technology of Electronic Equipment
Information Security
Info communication technologies and communication systems, Field of Mobile Communication Systems
Instrument engineering
Fundamental Computer Science and Information Technology
Management in technical systems
Software Engineering
Specialist Degree Programs
Information Security of Automated Systems, field of Information Security of Automated Systems of Critical Objects
Radio-electronic Systems and Complexes, Field of Radio Systems and Control Systems
University accommodates its enrolled students, especially international students in its housing blocks, which are quite comfortable & equipped with every basic amenity required for staying on Campus. Indian dining is available for Indian students, which is an added advantage.
University has 5 Museums- Arts Hall, Geological Museum, Museum of Nationalities and Technology of the South Urals, SUSU Museum, The Russian Museum Branch
SUSU has 23 performance groups, more than 24 sports clubs and a wide range of student organizations
South Ural State University is not restricted to delivering education only, but it offers variety of opportunities to the enrolled students. Active life of today's students of South Ural State University is deeply connected with sports and culture.
On a timely basis, University organizes regular recreational, cultural and sports activities to make students' life more interesting and eventful.