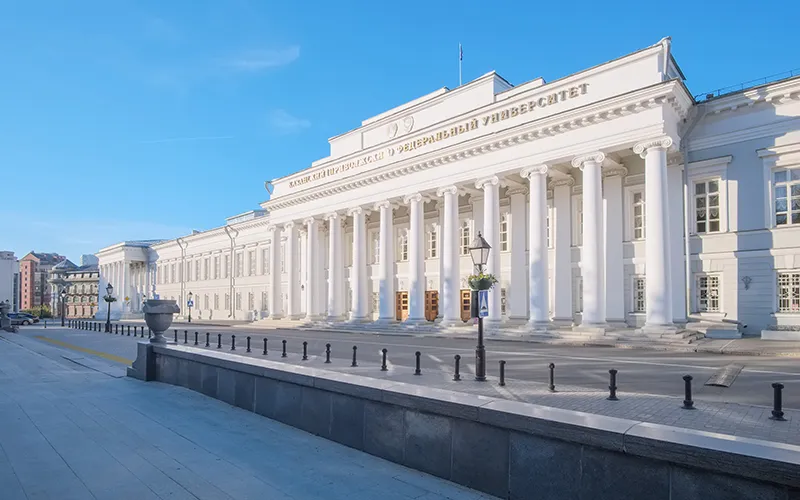 Founded in 1804, Kazan Federal University is one of the oldest universities in Russia. The University actively participates in local and international cooperation, networking with academia and industry, boosting the region's human resources development as well as top-level research and innovation in different areas. In recent years, the university has come up with 17 centers of excellence, and 80 world-class research and teaching laboratories.
Kazan Federal University is an acknowledged center of academic excellence actively participating in international cooperation.
290 cooperation agreements with partners from 64 countries.

A member of 15 International Academic Associations.
Till now, 44,350 students have graduated from this University. Presently, Kazan Federal University has 200+ Indian students studying MBBS in Russia. There are 590 degree programs in various disciplines out of which 17 courses are double-degree programs with the partner Universities. The University staff invites 157 professors from world-renowned Universities and research centers. There are 13 institutes, 3 higher schools, 1 faculty, 2 regional branches in Yelabuga and NaberezhnteChelny.
Kazan Federal University Overview
| | |
| --- | --- |
| Year of Establishment | 1804 |
| Type of University | Government |
| Duration of MBBS | 6 years (Including one year of internship) |
| Recognitions | NMC (erstwhile MCI), FAIMER, WDOMS, & ECFMG |
| Intake period | September |
| Medium of teaching | English  |
| NEET Requirement | Yes |
| Eligibility Exam (IELTS/TOEFL) | No |
Faculties of Kazan Federal University
The faculties in Kazan Federal University are:
Faculty of Dentistry

Faculty of Human Health

Faculty of General Pathology

Faculty of Simulation Medicine 

Faculty of Clinical Medicine

Faculty of Surgery
Kazan Federal University MBBS Fees Structure
Fees Structure

1st Year

2nd Year

3rd Year

4th Year

5th Year

6th Year

Total Course Package

Tuition Fee

$ 6,000

$ 6,000

$ 6,000

$ 6,000

$ 6,000

$ 6,000

 

Hostel Fee

$ 100

$ 100

$ 100

$ 100

$ 100

$ 100

Total Fees in USD

$ 6,100

$ 6,100

$ 6,100

$ 6,100

$ 6,100

$ 6,100

$ 36,600               

Total Fees in Rs

₹ 4,57,500

₹ 4,57,500

₹ 4,57,500

₹ 4,57,500

₹ 4,57,500

₹ 4,57,500

₹ 27,45,000 
*Calculations are as per the current market value of Indian Rupee against US Dollar (1 USD = INR 75)
Note: 
The above-mentioned fee structure is the final amount to be paid by the student to Rus Education.

This fee package includes Tuition fee, Hostel accommodation fee, medical insurance, remuneration to the centre, MCI coaching for the complete duration of the course, airport transfer to the university, a phone call to parents on arrival in the university, study material in English Language, documentation of the student in the university, free translator to facilitate, and other services.
Eligibility Criteria for Admission in Kazan Federal University
The admission criteria for any Indian student applying to Kazan Federal University for MBBS in Russia are:
Academic requirements:

Cleared Class 12th with at least 50% score in Physics, Chemistry, and Biology.

Age requirement:

Must be the age of 17 years on or before 31st December in the year of admission.

NEET requirements:

Qualified NEET exam (50th percentile for general/EWS category and 40th percentile for unreserved category)
The procedure for MBBS admission in Russia in Kazan Federal University is as follows:
Fill up the application form.

Attach the necessary documents like scanned copies of school certificates, scanned copy of passport, and NEET scorecard.

The university will send the provisional admission letter after approval of the application.

The university will send a visa invitation letter in some time.

The applicant can apply for the student visa with the Russian embassy.

Make travel arrangements to fly to Russia.
Indian medical aspirants are required to submit the following documents during MBBS admission in Kazan Federal University.
Class 10th pass certificate and mark sheet

Class 12th pass certificate and mark sheet

NEET score card

Birth certificate

Valid passport

Passport-size photographs

Medical test report including HIV negative report.
Why Study MBBS at Kazan Federal University?
Below are the reasons to study MBBS in Russia at Kazan Federal University:
Second largest university of Russia.

Offers best-quality medical education to its foreign students.

Seamless admission procedure 

Economical tuition fee for international students

Almost 3000 professors in the university, most of them holding doctorate degrees.

The MBBS degree issued by the university is accepted globally.

English is the medium of instruction.

415 labs and university clinics are available for students.

No separate entrance exam is required for admission.

Fully furnished hostel accommodation for international students. 

Medical graduates from this university can practice medicine anywhere in the world.
Student Life at Kazan Federal University
KFU students have the chance to live on and off campus. 

At KFU, the students have the best opportunities of living facilities in the most comfortable apartments, including Universiade-2013 Village dormitories with the capacity of up to 12,000 places. 

Access to the facilities are available such as a medical center, drugstore, sports equipment, rent station, copy center, laundry, beauty salon, cafeteria, etc.

There are 10 sports halls at the UNIX Center. One of them was built recently in the year 2013 which is called World University Games Sporting Center Bustan. 

There is a swimming pool, ice rink, and multi-purpose sports complex in the Universiade for students.

 The students are provided with 24 kinds of sports activities like aerobics, track and field athletics, table tennis, basketball, volleyball, martial arts, rock-climbing, swimming, football, and much more.

Kazan Federal University has collaborations with approximately 190 universities and research centers from more than 53 countries.

900+ students and faculty members get the opportunity to visit overseas universities and research centers for seminars and conferences.