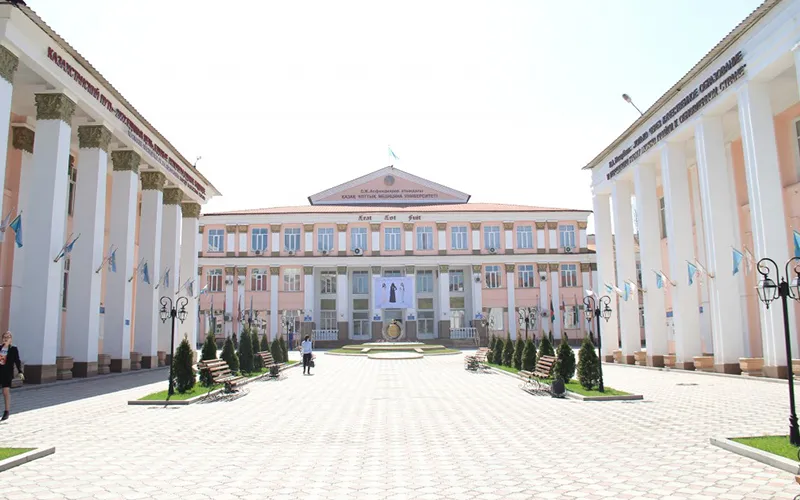 Kazakh National Medical University
About University
Kazakh National Medical University (KazNMU) is one of the top medical universities of Kazakhstan. The university was established in the year 1930 in the rural area of Almaty city. The city is known to have the population of about 1,000,000 - 5,000,000. With its excellent academic results, the government of Kazakhstan classified KazNMU as the national university in the year 2001.
The university is recognized by the Ministry of Education and Science of the Republic of Kazakhstan. The university was started with the mission to define a perfect model of competitive and innovation focused institution in order to deliver highly qualified medical education to the students worldwide. The structure of the university is strong enough to provide up-to-date scientific investigations on urgent problems of Public health, implemented in practical health care at a medical services market.
The university offers a number of medical courses under bachelor, master degrees as well as doctorate programs. Many students from various countries apply to get admission in MBBS in KazNMU. Kazakh National Medical University is well-equipped with the modernized infrastructure and the best medical instruments. At present, there are over 11,000 students studying there and over 1500 faculty members are working in Kazakh National Medical University. The faculty members comprises of more than 500 candidates of science, over 200 doctors of science, 130 professors, and 15 laureates of State prizes.
General Medicine faculty
Therapeutic Faculty
Faculty of pediatrics
Medico-Prophylactic Faculty
Stomatology Faculty
Pharmacy Faculty
Faculty of Management in Public Health and Pharmacy
Postgraduate
KazNMU's residence hall has a space for 2198 students, accommodated in sharing. There are 2, 3, 4- seater standard furnished rooms that are equipped with all the requirements for comfortable living for students. The students are provided with many facilities like Computer rooms, Canteen, gym, Kitchens, Laundry room, Library, Reading rooms, TV and DVD room, Study rooms on each floor are equipped with Wi-Fi internet access, and Sports complex (basketball, taekwondo, u-shu, sambo, judo, volleyball, wrestling, etc.)
There is a large number of student organizations at Kazakh National Medical University. There is Committee on youth affairs, Debate Club, KVN Team, University Student Government, Student Union Committee Demeu, Sector of students' scientific-research work and council of young scientists, Volunteer club, Intellectual club, Student ombudsman, and Students university patrol.
 

Tution Fee

Per Year

Hostel Fee

Per Year

Admission Fee

1st Year Only

Grand Total

Total Expenses

First Year
5000$
300$
1000$
6300$
Second Year
5000$
300$
0
5300$
Third Year
5000$
300$
0
5300$
Fourth Year
5000$
300$
0
5300$
Fifth Year
5000$
300$
0
5300$
Total Fee
25000$
1500$
1000$
27,500$
NOTE: The above-mentioned fee structure is the final amount to be paid by the student to Rus Education. This fee package includes Tuition fee, Hostel accommodation fee, medical insurance, remuneration to the center, MCI coaching for the complete duration of the course, airport transfer to the university, a phone call to parents on arrival in the university, study material in English Language, documentation of the student in the university, free translator to facilitate, and other services.