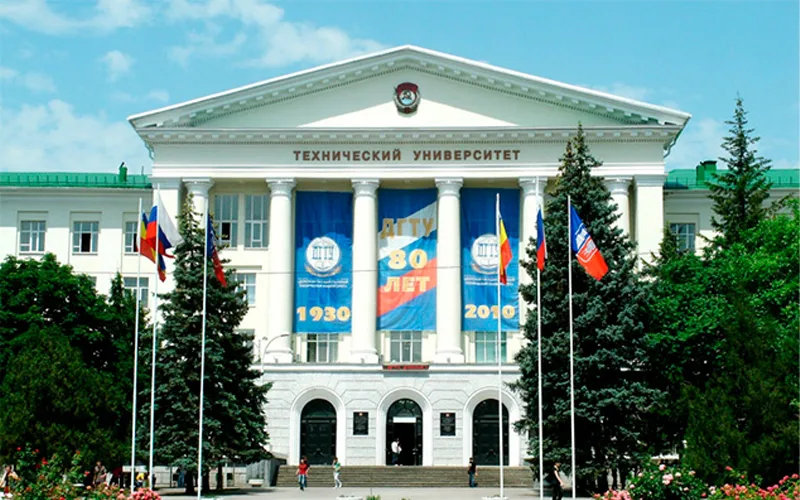 Don State Technical University
About University
Don State Technical University was marked its presence on May 20, 1930. It is the biggest University in South of Russia. Originally it was named North Caucasus Institute of Agricultural Engineering along with the two faculties; then again it was renamed in 1938 as Institute of Agricultural Engineering. Until 1992, it was a dominating endowment for agricultural machinery design and high-speed turning in the Soviet Union.
It is the flagship multi-discipline University of the Rostov region, which is the fourth most acknowledged forerunner University by the Russian Ministry of Science and Education, as per the report of 2016. University relies on the major aim of doing sustainable development from past 88-years.
DSTU encourages the young innovators and scientists, develops scientific & research infrastructure, participates actively in international study programs and widens cooperation with the world scientific community. It impels to maintain a noted position among the regional universities, with a new subjective level. DSTU focuses on becoming the center for the talented youth and drivers of the Don region economy growth.
Building healthy relationships with international collaborators is one of the visions of the University. It has partnership with more than 175 international universities around the world. Learning and skill development is never constrained to classes only, in fact, it goes to the participation in on campus activities such as sports, music, theatre, visual arts and other cultural activities.
Don State Technical University is among the biggest international educational centres in Russia. Every year more than 1000 students from 58 countries gets enrollment in the University for their further studies.
University approximately offers 100 courses of study ranging from mathematics & solid-state physics to mechanical engineering, aviation and much more under its 24 faculties. Under its international faculty, university also provides Pre-degree Russian language courses for applicants with no/insufficient Russian Language.
Over 40000 of our students study more than 370 Bachelor's, Master's, PhD and MBA educational programs. 70% of these programmes are technical and engineering ones that are in high demand nowadays.
The infrastructure of the university includes a big campus with 20 educational buildings, 7 dormitories, 4 research centres and 30 scientific and technical laboratories, sport complexes with a swimming pool, stadiums, gyms and athletic arena, a student park of 13 hectares, an Exhibition and Convention Centre, the Great Holy Martyr Tatiana church, recreation centres for students and staff.
Faculty of Agribusiness
Faculty of Aircraft Engineering
Faculty of Architecture, Design and Art
Faculty of Automation, Mechatronics and Control
Faculty of Construction and Engineering
Faculty of Innovative Business and Management
International Faculty
Faculty of IT-systems & Technologies
Faculty of Service and Tourism
Faculty of Life Safety and Environmental Engineering
Faculty of Machinery Engineering and Equipment
Faculty of Mechanical Engineering
Faculty of Media Communications and Multimedia Technologies
Faculty of Power Engineering, Oil and Gas Industry
Faculty of Physical training and Sports
Faculty of Road Transport Engineering
Faculty of Social and Human Sciences
Faculty of Tool Engineering and Technical regulations
Faculty of Transport, Service, and Maintenance
Faculty of Civil and Industrial Engineering
Faculty of Military Education
Faculty of Psychology, Pedagogy and Defect ology
Faculty of Aircraft Engineering
The faculty operates Aviation Training Center. The engineering references design, engineering and testing of helicopters and other aircraft vehicles as well as aircraft industry management. Under this, students will acquire the knowledge of developing and testing different kinds of flying machines, have practice placement at helicopter and airplanes plants and have competencies in areas like structures, propulsion systems, vehicle movement and control, communications and vehicle designs.
Undergraduate programs offered by the faculty are:
Aircraft Engineering
Helicopter Engineering
Heat engineering and applied hydromechanics
Refrigeration technology air conditioning systems
Masters programs
Machine Engineering –
Heat and power processes in Life support systems of flying machines and their engines
DSTU offers seven hostels facility with full- furnished rooms including all basic amenities. Dorms are designed for comfortable living of 2-3 students in a room.
The University strongly supports the great number of learning, practice, work, leisure, scientific, sports, healthcare, medical and entertainment opportunities for students, teachers and university's staff both on & off campus. The international community of the University organizes lots of events and activities throughout the year. Students from foreign countries get the homely feeling while being on the campus.
There is a modern sport complex available for the physical activities, build according to the international standards of quality & excellence with more advanced construction techniques.
Medical center of the University includes the therapists, ophthalmologist, dentists, trauma specialists and others.