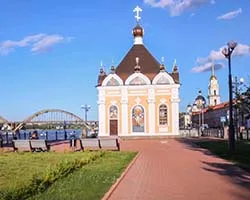 Rybinsk State Aviation Technical University
About University
Rybinsk State Aviation Technical University has a considerable history, it is associated with the achievements of Soviet and Russian aircraft engines since 1930. The University was officially established on 25th May 1955.
The University offers training to their students in the design and production of aircraft engines, instrumentation, general engineering, informational technology, social-cultural service and tourism, programming, quality management, computing and energy supply enterprises.
The University seeks development through scientific research, equipment and technology used in the production and operation of aircraft and gas power installation, ships, energy machines, aerospace navigation instruments. It provides a modern level of training to the students from the experts of the aerospace industries.
To give international exposure to the students, the University actively participates in international competitions, exhibitions and conferences.
Faculty of Aeroengines
Faculty of Aviatechnologies
Faculty of Radioelectronics and Informatics
Faculty of Sociology and Economics
Faculty of Aeroengines
Faculty of Aeroengines was founded in 1955. Earlier it was known as Aviamechanicheskogo and only trained engineers for aircraft engine. But, from past 90 years it has upgraded offering special training on material science, metallurgy, welding engineering and internal combustion engines.
Graduate Departments of the Faculty
Department of Aircraft Engines
Department of Technology of Aircraft Engines, General Machinery
Department of Materials, Casting, Welding
Department of General and Technical Physics
Faculty of Aviatechnologies
Faculty of Aviatechnologies was founded in 1955. Earlier it was named as Mechanical Engineering Department and was training engineering personnel in two specialties- "Metal-Cutting Machines and Tools" and "Mechanical Engineering". From 1959, it started training engineers in "Metal Processing Technology Pressure".
Presently, the faculty trains on two basic educational standards (PLO) Undergraduate- A Graduate of the PLO and the PLO of the same training, PLO Undergraduate towards training.
Departments of the Faculty
Department of Mechanical Engineering Technology
Department of Mechanical Machines and Systems
Student life at the University is very exploring and upgrading. The University offers international exposure to enhance their skills in every field. The hostels provided by us are very comfortable and inexpensive. It offers free WI-FI, TV, dining room and all the important facilities required for a comfortable & homely stay.
The University also has a Library, Sports facility and Medical Centre for the students. The library was there since 1955 with more than 660 thousand books. It consists of periodicals, scientific literature, normative- reports on research, technical documents, university papers, publications STI and electronic resources.