The Capital City of India experienced the ever-glowing culture of Moscow during the two-day event of 'Days of Moscow in Delhi'! The event was organized by the Tourism department of the Delhi Government in a bid to strengthen the ties with the Russian capital city. 
As a part of the 'Twin-City Agreement' between Delhi and Moscow governments, the 'Days of Moscow in Delhi' event on November 18th and 19th, witnessed a breath of fresh air in the form of extensive activities representing the art, culture, and life of Moscow. Delhi's Deputy CM Mr. Manish Sisodia said the event was an opportunity for everyone to experience the 'vast offerings from Moscow'.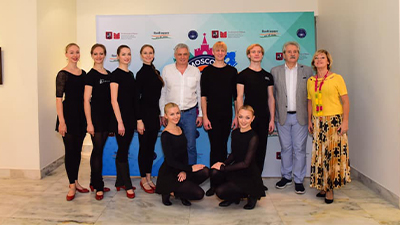 The first of the two-day event was graced by the presence of Russian Cosmonaut 'Hero of the Russian Federation Sergey Revin (ROSCOSMOS) at the 'Space Exploration' photo exhibition at IIIT, Delhi. The event also allowed dance enthusiasts to engage in a Dance Master Class by State academic choreographic ensemble "Berezka", at the Russian Center of Science and Culture, Delhi. On day two of the event, the organizers treated chess enthusiasts with an awe-inspiring Simultaneous Chess Play with Russian Grand Master Ivan Popov!
The highlight of the event was the screening of the popular Russian film, 'T-34', directed by Aleksey Sidorov, at the Russian Center of Science and Culture, New Delhi. The film was based on the brave escape of Russian soldiers from German captivity, in a T-34 tank.
The two-day event was an illustration of the positive relations between Moscow and Delhi that shows its positive impact on the growing educational ties between the two nations. Over the years, Russia has become one of the most popular destinations for Indian students seeking an opportunity to study medicine in foreign universities.
Image Sources: Russian Center of Science and Culture, and Russian Embassy in India