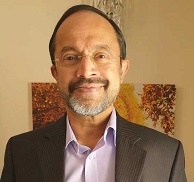 MBBS in Russia has always been a choice for fortune rather than the choice of fortune. Every year, thousands of students contemplate the scope of MBBS in Russia for them. Some might feel it's too costly, too lavish, or too uncertain but the best answer to these questions would be the examples from real life.
Recently, Dr, Hari Kumar studied at Peoples Friendship University, Moscow in the early 1970s USSR, publishing his autobiography which is a very convenient form that can be said from village to city.
The book titled A Different Degree: Memoirs of an Indo-Soviet Doctor has become increasingly popular just within the first month of its publication. The book takes you on the voyage of Hari Kumar, a young boy in a small village of Kerala to that of Dr. Hari Kumar, who at present is an ortho[medic surgeon living with his family in London.
The recounts the experiences of the learnings through the eyes of a man from a very polar opposite background and culture. The book recounts his intimate observations of the lives and habits of the Russians; their joys, troubles, ambitions, and hopes. It is a true story from a period in History which was undergoing many political and social changes at that time. The entire journey is delightfully told with an abundance of humor and a humble mix of wisdom.
Winston Churchill once defined Russia as "a riddle, wrapped in a mystery, inside an enigma". It was still the case when Hari Kumar left southern India and went behind the Iron Curtain in the seventies to study medicine at Peoples Friendship University, Moscow, USSR.
'A Different Degree' gives you a remarkable insight to attempt to solve the riddle, unravel the mystery and understand the enigma that was the USSR.
The well-established doctor of today re-lives his life and times after decades. His autobiography remarks on various prominent events of his life starting from his juvenile endeavors like experimenting with vodka, the first time surviving the bitter winter to finally falling in love with Russian culture.
He describes his entire journey of acquiring the one different degree in one sentence as 'a unique perspective of life as an international student in 1970s Soviet Moscow. It is made all the more vibrant by the loving, sincere, and honest people he met and the permanent impressions they made on his life.
Looking back at his life, he reminisced that it was in the early 1970s, a seventeen-year-old Indian boy left his village from Kerala to study medicine in the USSR. "I, then had never traveled outside my village on my own before and knew nothing of Soviet culture, or one word of the Russian language," said Kumar.
After 9 years of acquiring the degree of MBBS in Russia, he returned to India where he married, and then made another move to the UK – where he lives to this day with his family.
35 years later, when he went back to Moscow for a reunion of his medical school batch and he says, Moscow was a completely different city, as it had become the capital of a capitalist country.
Although the book is about the life of a medical student behind the iron curtain, the clarity and simplicity of it make it a good read. Scholars like Dr. Shashi Tharoor reviewed this book as "Intriguing" whereas Joanna Lumlay it as "Fascinating".
In his book he not only provides a clear picture of education in the present-day MBBS in Russia but also describes the fun of living in an international community of students and narrates his interesting trips to cities within the USSR.
Hari recounts intimate observations of the lives and habits of the Soviet people, their joys, frustrations, and hopes. "They lived good lives without having to worry about food and shelter or even crime, despite the controls and queues. Soviet citizens, remarkably, kept their humor and this book is sprinkled with moments of merriment and characteristically understated Russian jokes. Hari introduces readers to the richness of Russian songs and poetry with some sublime English translations. "There is something about Moscow that tends to attract you back like a magnet. It must be the warmth and genuineness of the people," reflects Hari.
Studying MBBS in Russia, even when it was USSR, has positively affected the lives of students even decades ago. And now, with even more resources and facilities, it is still one of the major highlights for the students willing to study MBBS in Abroad. At present, you can study in the top medical colleges of Russia at an extremely affordable price and even attain several other benefits like the coaching for the screening tests among the few.