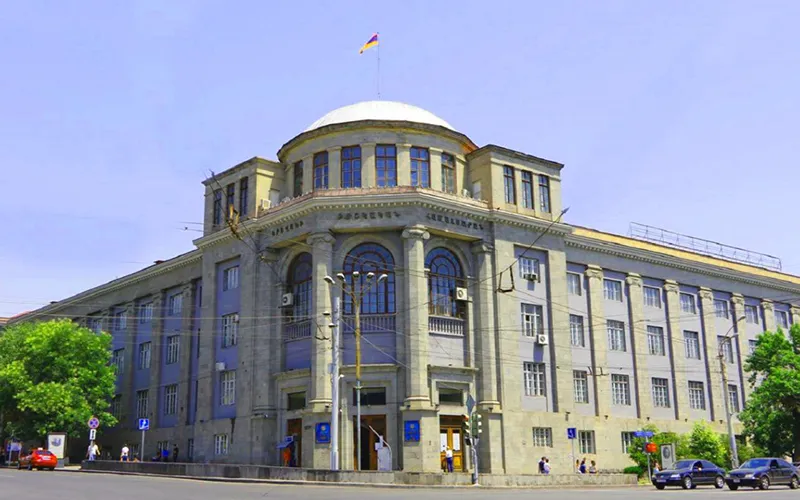 Yerevan State Medical University
ABOUT UNIVERSITY
Yerevan State Medical University is centrally located in the capital of Armenia, Yerevan. It is considered as one of the Top Medical Universities in Armenia, leading with a number of 31,000 graduates till date. There are about 8,000 students in 6 faculties of the State Medical University after Heratsi. Approximately, 1184 students are from various nations. It is considered to be the best University for studying MD in Armenia (equivalent to MBBS in India). Teaching and research activities are organized in more than 100 chairs, leading clinical bases and research centers in Yerevan.
University has about 1,100 lecturers out of which, 171 are well-qualified Doctors of Sciences, 504 are Candidates of Sciences, 7 Academicians of the RANAS; who perform scientific & pedagogical work at the University.
This cluster of scientific & intellectual potential has a significant role in the development of medical science in Armenia.
YSMU relies on the mission of preparing highly qualified & skilled doctors to change the world, save the humanity; wherever it is needed. The academic year consists of two semesters. The first semester starts on September 1 and ends in December-January.
University constitutes of 5 main buildings- Main University building, Administrative building, Laboratory building, Anatomical building, Dental clinics building, and also three hospitals (Heratsi Hospital, Muratsan Hospital & Mikaelyan Institute of Surgery) operated under the supervision of Yerevan State Medical University; where students get a great life-learning experience. There are more than 30 affiliated hospitals with which Yerevan State Medical University works closely
Also, The University has established close connections with medical universities and international health organizations in the field of higher education and health. These well-known universities are from USA, Germany, Greece, Italy, France, Belgium, Egypt, Sweden, etc. Since 2000, YSMU has joined a number of international organizations. Among them are: SGROUP European Network of Universities, The International Association of Universities, World Federation of Medical Education as Member of Medical Education Association in Europe, Association for Dental Education in Europe
Facts & Figures of the University-
School of General Medicine (MD- equivalent to MBBS in India)
School of Pharmacy
School of Dentistry
School of Military Medicine
Faculty of Public Health
School of Postgraduate and Continuing Education
The University provides comfortable accommodation & dining facilities to its student, especially Indian students; as Indian delicacies are also available for them.
It accommodates its students in its two houses for international students with a separate dining area. Rooms are fully furnished decorated with all the basic amenities and the space is clean & tidy. Laundry service is also available for the students.
The university has a separate sports complex, a library with over 6 Lakhs books, gym and swimming pool facility as well.
There is an extra-curricular department, which operates all the sports activities on campus that includes dancing, theatre, drama, soccer, volleyball, basketball, power lifting, chess, and much more.
For transportation; students can take advantage of the regular bus service or metro.