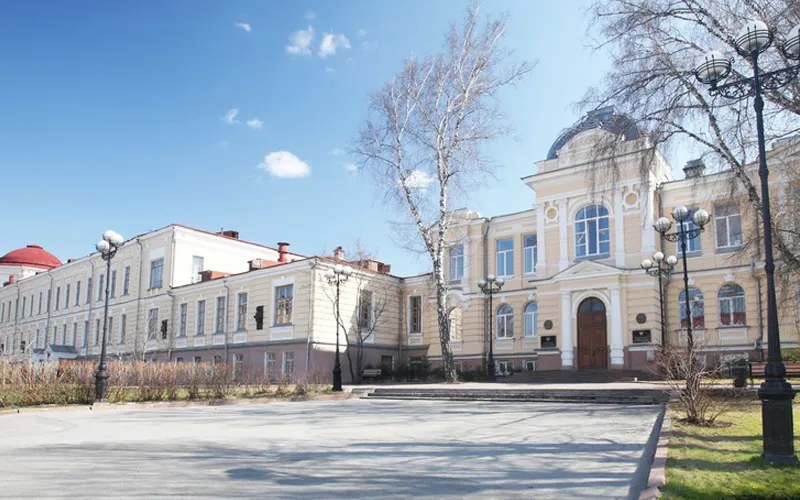 Established in 1878, Siberian State Medical University (SibMed) is one of the favored choices among the Indian students studying MBBS in Russia.  The university has gained the status of the only flagship medical university in Russia in 2017. 
SibMed is one of the few institutions in Russia that has its own multidisciplinary university hospital. This affects the teaching staff and student body to a large extent. The teaching staff consists of 80% of specialists with academic degrees and titles and 50% practicing doctors. In addition to the multidisciplinary hospital, SibMed students can receive training at the modern simulation center, which is one of the two centers in the Russian Federation that has received accreditation by the European Society for Simulation in Medicine (SESAM).
In 2015 SibMed became the first medical university in Russia to be accredited by the Skolkovo Technopark, the other recognitions include that of the World Directory Of Medical Schools (WDOMS), Educational Commission for Foreign Medical Graduates (ECFMG), Foundation for Advancement of International Medical Education and Research (FAIMER), World Federation for Medical Education (WFME), erstwhile Medical Council of India (MCI)/ National Medical Commission (NMC), etc. 
Overview of Siberian State Medical University
Year of Establishment

1878

Recognitions

NMC, FAIMER, ECFMG, WDOMS, MCC, and WFME

Duration of MBBS Course

6 years (including one year of internship)

Eligibility criteria

1. Minimum 17 years of age in the admission year

2. Passing NEET score

3. Minimum 50% aggregate marks in PCB subjects in class 12th. 

Intake 

September

Medium of teaching

English

Average tuition fees

INR 26,85,965/-

NEET requirement 

Mandatory

TOEFL/IELTS

Not required

Hostel accommodation

Available
Faculties at Siberian State Medical University
General Medicine

Pediatrics

Dentistry 

Pharmacology 

Nursing
Why Study MBBS at Siberian State Medical University?
Siberian State Medical University is one of the popular choices among Indian students opting to study MBBS in Russia. For the Indian students choosing to study MBBS abroad, the university is the preferred choice for various reasons such as: 
High-quality medical education

Highly-qualified medical faculty

NMC-recognized university

Highly equipped infrastructure 

 SibMed is one of the specialized universities selected by the Government of the Russian Federation to take part in the implementation of the project aimed at increasing education exports in Russia

The teaching staff consists of 80% of specialists with academic degrees and titles and 50% practicing doctors.

Learn at one of the biggest hospitals with 

Smart laboratories & advanced classrooms

Healthy student-teacher ratio 

No donation/capitation fee for admission

Easy admission procedure

Comfortable hostel accommodation

Resourceful libraries 

Access to global research practices, symposiums, etc
Siberian State Medical University MBBS Fee Structure 2023-24
 

Tuition Fee

Hostel Fee

Mess Fee

1st Year

6,150 US Dollars

Included in tuition fees

1,200 US Dollars

2nd – 6th Year

5,150 US Dollars (per year)

Optional

Total Fee in US Dollars

33,100 US Dollars (Full Course)

Total Fee in Indian Rupees

26,85,965 Indian Rupees (Full Course)
*Calculations are as per the current market value of Indian Rupee against US Dollar (1 USD = INR 75)
Note: 
The above-mentioned fee structure is the final amount to be paid by the student to Rus Education.

This fee package includes Tuition fee, Hostel accommodation fee, medical insurance, remuneration to the centre, MCI coaching for the complete duration of the course, airport transfer to the university, a phone call to parents on arrival in the university, study material in English Language, documentation of the student in the university, free translator to facilitate, and other services.
Eligibility Criteria For MBBS in Russia
The eligibility criteria for MBBS admission at Siberian State Medical University in Russia is given below:
At least 50% aggregate score in Physics, Chemistry, and Biology in Class 12th.

At least 17 years of age as on 31 December in the admission year. 

Qualifying NEET score. (50th percentile for general/EWS category and 40th percentile for unreserved category)
MBBS Admission Process of Siberian State Medical University
The process of MBBS admission to Siberian State Medical University for the academic session 2023-24 is as follows:
Step 1: Fill up the application form of Siberian State Medical University.
Step 2: Submit the required documents for admission in MBBS in Russia.
Step 3: Receive admission/acceptance letter from the university.
Step 4: Apply for a student visa with submission of passport and other documents.
Step 5: If applying for an education loan, clear all the dues.
Step 6: Make arrangements for your travel to Russia for your medical studies.
Step 7: Board your flights to Russia.
Documents Required For Admission
Duly filled-in  Admission form

Scanned copy of Class 12th Pass Certificate/Mark sheet

Scanned copy of Class 10th Pass Certificate

NEET Result/Admit Card.

Scanned copy of Passport (first and last page)

ID Proof (Adhar, PAN, Driving License, etc.) if Passport is not ready at the time of application.

Medical report with HIV report at the time of Visa stamping
The team of Education Abroad facilitates for other documents such as admission letters from the university, converted currencies, etc
Duration of MBBS Course At Siberian State Medical University
Siberian State Medical University offers a 6-year MBBS course to its students in English medium. 

The duration of the MBBS course includes one year of internship at top hospitals and clinics of Russia. 

The entire MBBS course at Siberian State Medical University combines the best of theoretical knowledge and practical experience.
Student Life at Siberian State Medical University
The university organizes a year-round recreation program that includes basketball, tennis, football, skiing and skating in winters and swimming in summers.

University students also participate at various interest-based clubs available to all the students such as Student Scientific Society, English Speaking Club, Volunteer Clubs, etc.

The university has 6 dormitories for international students.

Indian food is available for students from India.

Hostels have internet connectivity and access to all the basic amenities.

Medical library is accessible to all the university students.

Cultural programs are organized for the students for special and festive occasions.

The university observes a good student and teacher ratio.

24/7 safety and security of students within the university campus and hostels. 

The student scientific societies in each faculty allows students to participate in the seminars, conferences, and youth forums on national and international levels.
Siberia: City At A Glance
Siberia is an extensive geographical region, constituting all of North Asia, from the Ural Mountains in the west to the Pacific Ocean in the east.

The climate of Siberia varies dramatically, but it typically has short summers and long, brutally cold winters. 

It takes about 6h 22m to get from Moscow to Siberia and cover the distance of 3,497 km via air.

Popular for its winters and aesthetically pleasing surrounding, some of the common spots are  Altai mountains, Baikal lake, Putorana Plateau, Krasnoyarsk stolby, Ergaki, etc