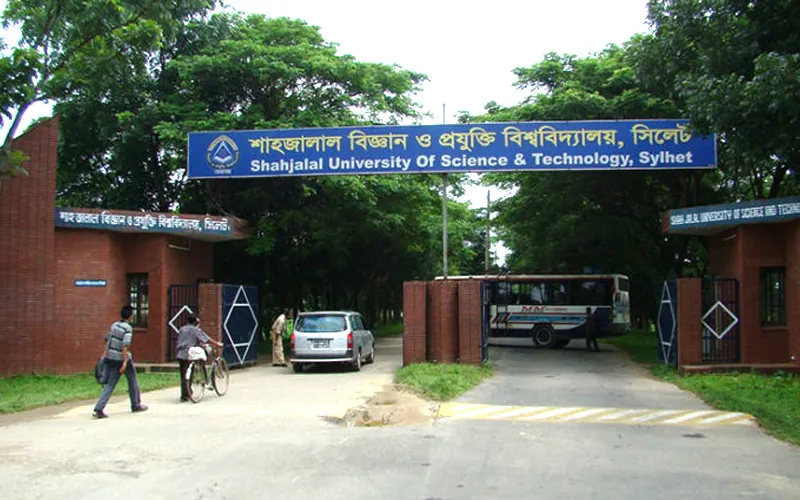 Shahjalal University of Science and Technology
ABOUT UNIVERSITY
Shahjalal University of Science and Technology (SUST) is a public research university situated in Sylhet, Bangladesh. Shahjahal University of Science and Technology is also one of the pioneers in the industry to implement the credit system used in American Universities to bring the students at par with the rest of the world. One of the most distinguished feature for Shahjahal University of Science 7 Technology is that it offers Ph.D. programs to the students.
The Government of Bangladesh had formulated the University Act and by virtue of the same act in 1986, the Shahjahal University of Science & Technology was established. The university has been conferred with various titles like specialized institute for Science & Technology by virtue of the versatile faculties available at the University.
Kumargaon, almost 15 minutes drive away from the heart of Syllhet City Centre is the location of Shahjahal University of Science & Technology. In the early days, there were only three departments - Physics, Economics & Chemistry; instituted in the curriculum for the students. Later, the number of faculties offered was increased and help the students to acquire the skill-set for building a better future. SUST is also one of those few university, who have offered free Wifi to the students and encourage them to explore the advancements in their subject across the globe.
Different faculties offered to the students at the University are as follows:
School of Agriculture and Mineral Sciences
School of Applied Science and Technology
School of Life Sciences
School of Management and Business Administration
School of Physical Sciences
School of Social Sciences
Since the day of its establishment, the university has trained thousands of students from various parts of the world along with Bangladesh. This has led the University to acquire the status of a World-Class Education Centre and has contributed to the formation of a stable career path for thousands of students now. The alumni network keeps in regular touch with the faculties and help the newcomers to get industry exposure at an early stage.
Many international students have enrolled in the university and hence are accommodated in excellent quality hostel equipped with all the modern facilities. The library within the premises helps the students to get extra study material, apart from the textbooks and enrich the student's knowledge-base.
The classrooms, sport complexes and playgrounds within the campus are furnished with all the advanced equipments and enable the students to explore their creativity.