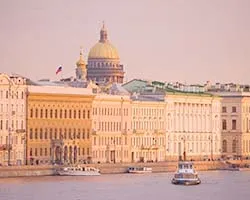 Saint Petersburg State University of Aerospace Instrumentation
About University
Saint Petersburg State University of Aerospace Instrumentation is one of the top leading educational and research institute in the field of aerospace, computer and intelligent control systems. The University was officially established on 25th January 1941.
At the time of establishment it was known as The Leningrad Aviation Institute (LAI) and further many names were given.
The University offers advanced degree programs under 13 institutes and faculties with 40 departments. It has two campuses at Peredovikov Prospect and Zhukov Prospect. All the laboratories and lecture rooms are equipped with modern facilities. It provides high-quality education in Engineering, Economics, Law and Humanities.
The lecturers are experienced, holding scientific degrees and one in five lecturers are PhD holders. The students get updated and upgraded computer aided training from the experts and get opportunity to work with them.
Presently, many graduates are working in various countries like USA, Italy, Israel, Canada etc.
The University provides a healthy environment needed for education and personality development. It allows students to become balanced, creative and sound.
The Institute of Aerospace Instruments and Systems
The Embedded Electronic Systems for Information Processing and Control Research and Educational Center
The Information Provision for Transport Logistics Research and Educational Center
The International Institute for Advanced Aerospace Technologies
The Institute of High-Performance Computing and Network Technologies
The International Institute of Engineering for Ecology and Life Safety
The Interfaculty Training Laboratory of Onboard Aircraft Systems
The Institute of Computing Systems and Programming
The North-West Innovation and Educational Centre for Space Services the Cosmo Inform Centre
The Research and Educational Center of Intelligent Technologies for Processing the Aerospace Information
The Institute of Radio Engineering, Electronics and Communication
The Institute of Innovative Technologies in Electromechanics and Power Engineering
The Institute of Business Technologies
The Institute of Information Systems and Data Processing
Saint Petersburg State University of Aerospace Instrumentation also cares for student's personal development. It provides them opportunities to enhance their creative skills which make their life exploring and upgrading. Every year, University holds football, basketball, street ball, volleyball, wrestling and bowling tournaments. The artistic competition, the SUAI Talent Show, is their speciality.
The hostels provided, are very comfortable and budget-friendly. It offers free WI-FI, TV, dining room and all the important facilities required for a comfortable & homely stay.