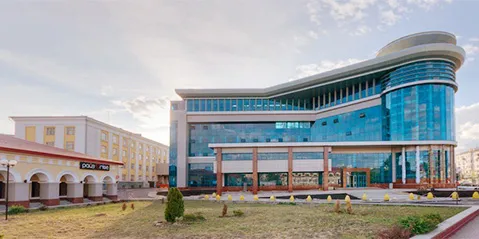 Ufa State Aviation Technical University
About University
USATU is the most noted and popular university of the Republic. It was founded in 1932 and is popular among the students.
The USATU has acquired remarkable achievements that cannot be found in other universities of Bashkortostan, and in general, perhaps in Russia.
USATU's degree concentration programs are accredited by the National Education Ministry – the only specialized accrediting agency responsible for academic accreditation of educational programs in Russia.
USATU is the only university in the region that has its own aviation park, including modern Su-27 and MiG-29 combat aircraft. The subject of special pride is the study-museum of aircraft engines. It is truly unique: there are only two of them in the country (the second is in Samara).
The University's main campus features exciting resources and equipment, including a center for receiving and data processing of cosmic information, a student design bureau - INFOCOSMOS, with its micro satellite - USATUSAT, a center for open research resources and equipment - NANOTECH, a 3-dimensional virtual laboratory, a computational lab with its supercomputer and a recently created a robotics lab.
UFA is quite popular among students as it offers a great opportunity to explore Russia's rigorous traditions of higher education to enable them to succeed in aerospace, automotive, computer, nanotechnology, communications and other high-tech industries.
The University is serving 1500 above faculty members and every year, almost 20,000 students from 27 countries around the world; the university is situated on a 500-acre campus in Ufa, Republic of Bashkortostan.
USATU has 7 faculties, 64 departments, 7 research centers and institutes; offering 56 majors, at 2 satellite campuses and 1 college for professional education. Ufa State Aviation Technical University (USATU) offers 109 academic options in several subject areas (in health sciences, liberal arts, life sciences, engineering and more) at the main Ufa campus in Ufa.
The Faculty of Aircraft Engine Design, Energy and Transportation Engineering
Institute of Aerospace Technology and Material Science
The Faculty of Avionics, Energy Engineering, and Infocomm Technology
The Faculty of Informatics and Robotics
Faculty of Civil Defense and Emergency Management
Institute of Military Engineering
Aircraft Engine Design Program
Program Majors: Heating Engineering: Aerospace and Rocket Industry
Air-Breathing Engine Design
Aerospace Engineering Program
Program Majors: Helicopter Technology
Aerospace Vehicle and Aircraft Engine Maintenance Program
Program Majors: Aerospace Vehicle and Aircraft Engine Maintenance
The campus of the Ufa State Aviation Technical University consists of nine hostels, five of which are of the corridor type and four are of the block type. Each dormitory is assigned to its faculty, the fifth dorm- for foreign students, the ninth – for family students and graduate students.
In each dormitory there are sports rooms, self-catering kitchens, study rooms, showers, in all dormitories & there are separate rooms for organizing leisure activities. Each hostel is equipped to meet sanitary and hygienic standards set up by the authorities.
Its structural unit develops social programs aimed at socio-psychological protection and support for students and university workers. Many festivals and traditional evenings are celebrated every year in the University campus to make the environment more conducive for the enrolled students.