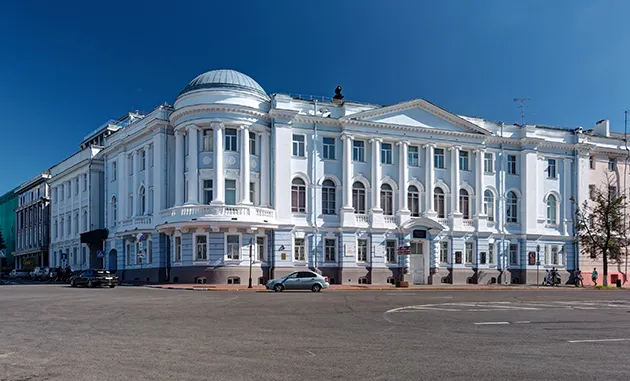 Nizhny Novgorod State Medical University
About University
Nizhny Novgorod State Medical University is a major center for training medical practitioners in one of the largest regions of the European part of Russia. The medical faculty was opened in 1920 as a faculty of Nizhny Novgorod University. In May, 1930 it became an independent Medical Institute and in June 1994 it got a status of the State Medical Academy. In 1992 the Faculty of Overseas Admissions was opened in NNSMA. Since 1998-99 academic year the Academy has started training of international students in the English Medium. The new name for Nizhny Novgorod State Medical University is Research Medical University of Volga region More than 800 international students from 38 countries of Asia, Africa and Latin America (India, Sri-Lanka, Malaysia, Morocco, Tanzania, Kenya, Syria and others) are being trained in Medicine, Dentistry and Pharmacy. The total number of students in the University is more than 5000. The university closely collaborates with medical scientific research institutes, clinics and medical centers; it helps students to apply their theoretical knowledge in the practice and to discover nuances of their future work from the very first years of study. The University is associated with many teaching hospitals distributed throughout the city, where the students learn many basic clinical skills.
FACULTY OF GENERAL MEDICINE
FACULTY OF PEDIATRICS
FACULTY OF PREVENTIVE MEDICINE
FACULTY OF DENTISTRY
FACULTY OF HIGHER NURSING EDUCATION
Students are provided with comfortable double rooms at 3 modern hostels situated in medical campus. Rooms are supplied with necessary furniture and bed linen.
Students have all conditions for enjoying sport and social activities: sport halls, swimming pools, Internet.Different social and cultural events are organized for foreign students. The academy provides a springboard for sportsmen with sporting facilities such as sports complex, including gymnasium, indoor football, badminton, tennis, volleyball, athletic stadiums, etc. The Faculty's staff encourages academic, national and other interests of students. National and International associations of students are being organized to unite students from different countries.
Fee Pattern
Total Fee(In USD)
1st Year
Total Fee(In USD)
2nd-6th per Year
Grand Total
Total Expenses
Per Year
5,500$
5,500$
5,500$ + (5,500$ x 5) = 33000$
Hostel Fee (In USD)
850$
850$
850$ + (850$ x 5) = 5100$
Medical Insurance (In USD)
150
150
150 x (150 x 5) = 900
NOTE: The above-mentioned fee structure is the final amount to be paid by the student to Rus Education. This fee package includes Tuition fee, Hostel accommodation fee, medical insurance, remuneration to the center, MCI coaching for the complete duration of the course, airport transfer to the university, a phone call to parents on arrival in the university, study material in English Language, documentation of the student in the university, free translator to facilitate, and other services.