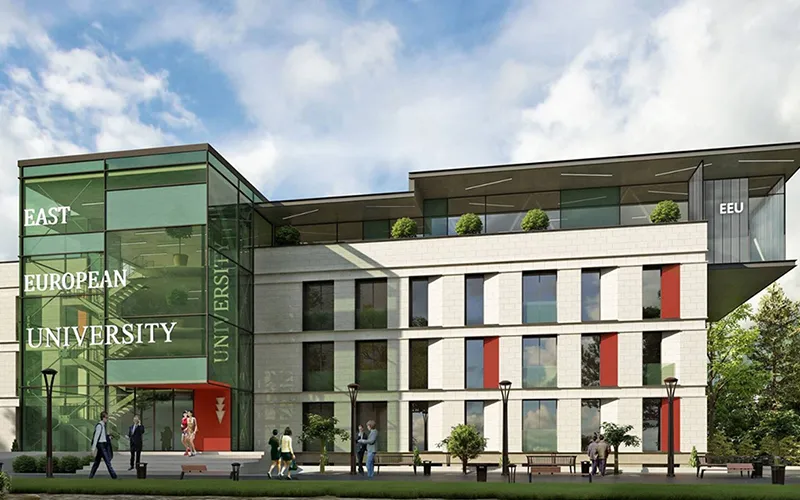 East European University
About University
East European University was established in 2012 at Tbilisi, Shatili Str. It is a private college which is authorized and accredited higher education institution by the Ministry of Education and Science of Georgia recognized worldwide.
The University offers a global standard of education and fabricates student's career by providing them with various opportunities. It has modern infrastructure, experienced professors and updated European education programs. It also offers scholarships to the students.
The degree awarded by the University is recognized worldwide and thus the students have bigger higher opportunities to get jobs all over the world. It organizes education conferences, debates, summer/winter schools and provides internships to the students all around the world so they get benefitted with global experience.
The East European University is considered one of the best universities in the world which offers the best facilities to the students and shaping their career in the right direction.
Faculty of Pharmacy
Faculty of Dentistry
Faculty of Healing
The university organizes many extra-curricular activities like cultural, sports, and social activities for student's self-development. It offers various kind of academic and personal help to nurture young talent. Students are offered with free medical services, preventive vaccinations and 20% discount on dental treatment.
The University provides furnished hostels, equipped with day to day basic facilities and free WIFI accessibility. It also offers Indian food, especially for the Indian Students.
Fee Pattern

Total Fee

(Per Year)

Hostel+Food

(Per Year)

Total Fee

(Per Year)

Grand Total

(Total Expenses)

Per Year
4500$
2500$
7000$

35000$

(Full Course)
NOTE: The above-mentioned fee structure is the final amount to be paid by the student to Rus Education. This fee package includes Tuition fee, Hostel accommodation fee, medical insurance, remuneration to the center, MCI coaching for the complete duration of the course, airport transfer to the university, a phone call to parents on arrival in the university, study material in English Language, documentation of the student in the university, free translator to facilitate, and other services.