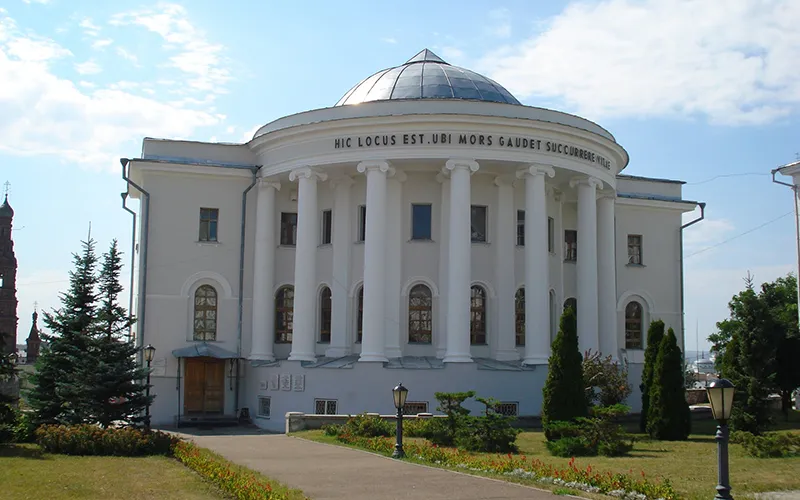 Kazan State Medical University
About University
In the fields of medicine, Kazan State Medical University is considered to be one of the most esteemed Universities of Russia. From this University, thousands of Indians had been graduated in the past. For higher learning in medicine, KSMU is treated to be the multifunctional and multi-leveled government institution. In getting hands on education in medicine, it meets both personal and social needs in developing biomedical and clinical sciences, as well as broadening scientific knowledge of medical sciences. As per the Academic Ranking of World Universities (European Standard ARES-2014), KSMU has secured the third place among the top Medical Universities in Russia by the European Scientific-Industrial Chamber. KSMU is recognized by MCI, WHO, UK, USA, and other considerable countries. The University belongs to the system of Higher Education and Scientific Research of the Ministry of Health of Russia and it functions at the groundwork of self-governance.
Faculty of Medicine
Faculty of Pharmacy
Faculty of Dentistry
Faculty of Medical Business
Kazan State Medical University offers great attention towards students' life. The University conducts athletic programs for the students. During the vacations, the students are provided with the relaxation in the camp "Medic", which is situated in the forest on the banks of the Volga River. There is Year-Round Recreation Program which includes football, tennis, basketball, swimming in summers, and skiing and skating in the winters.
There are 6 hostels for the students which are very near to the University. The hostels are under the protection of the police department. There are various kinds of rooms which are different in sizes. 2-3 students can share one room comfortably. The rooms are fully furnished and well-heated. In the hostel room, there is an Internet access, a television, and a telephone for the students. Bathrooms and kitchens are provided on the sharing basis. A special area for students is there where they can socialize and meet new friends.
Direct Admission for MBBS in Russia is now available in Kazan State Medical University. Contact Rus Education and apply now.
Fee Pattern
Total Fee
1st Year
Total Fee
2nd-6th per Year
Grand Total
Total Expenses
Tuition Fee
(In Russian Ruble)
4,00,000
4,00,000
4,00,000+(4,00,000 x 5) = 24,00,000 Rub
Tution Fee
(In USD)
6,000$
6,000$
6,000$ + (6,000$ x 5) = 36,000$
This Above fee structure includes Tution Fee only , Medical Insucance(200 $ Per Year) & Accomodation are Extra.
NOTE: The above-mentioned fee structure is the final amount to be paid by the student to Rus Education. This fee package includes Tuition fee, Hostel accommodation fee, medical insurance, remuneration to the center, MCI coaching for the complete duration of the course, airport transfer to the university, a phone call to parents on arrival in the university, study material in English Language, documentation of the student in the university, free translator to facilitate, and other services.