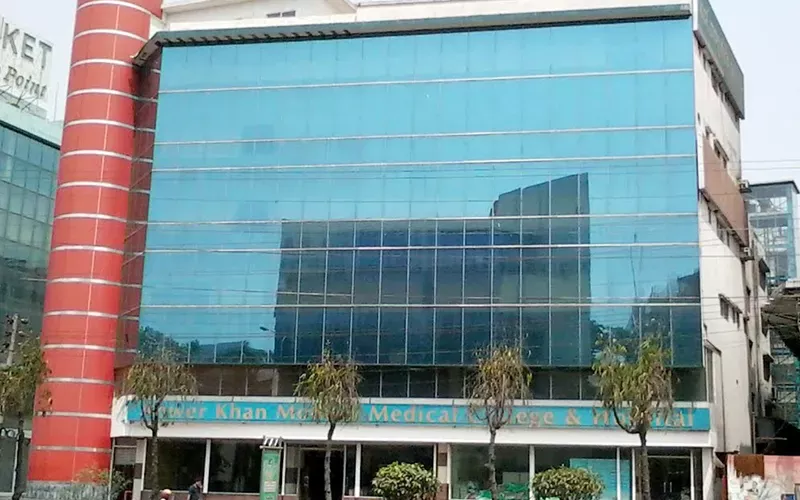 Anwer Khan Modern Medical College
ABOUT UNIVERSITY
Anwer Khan Modern Medical College (AKMMC) is one of the prestigious medical schools in Bangladesh. The School was founded in the year 2008, in Dhanmondi, Dhaka. Anwer Khan Modern Medical School is affiliated by Dhaka University as a constituent college.
English is the medium of language opted by the University to offer Medical Education to all international students especially Indian students. One year internship after the completion of the medical program is mandatory for every medical graduate, who have opted to study MBBS in Bangladesh. The degree offered by Anwer Khan Modern Medical College is recognized by the Bangladesh Medical & Dental Council and Medical Council of India. Medical graduates from AKMMC are eligible to practice their medical career in any country of the world after qualifying the FMGE of that country.
The College is under the governance of the Ministry of Health & Family Welfare, Govt. of People of the Republic of Bangladesh. The college has an affiliated hospital of 750 beds with it and is run and managed by a non-profit and non-political organization- Bangladesh Medical Studies and Research Institute (BMSRI).
Since its inception, the college is known for its quality medical education and the academic environment. Medical students at AKMMC have the opportunity to practice on the latest technology introduced in the field of medicine.
Faculty of General Medicine (MBBS)
Students at Anwer Khan Modern Medical College experience a vibrant and safe environment. The College offers separate accommodation to male and female students. The rooms are offered on a twin sharing basis and are fully-furnished with a central heating and cooling system.
The college has a well-furnished and spacious library with a vast collection of all the latest medical books, monographs, journals, magazines, and newspapers.
| | | | | | |
| --- | --- | --- | --- | --- | --- |
| Name Of College | Total Tuition Fee of 5 years | First Year Fee | 2nd to 5th Year Total Fee in Installments | Hostel/ Month Charges | Mess/ Month Charges |
| Anwer Khan Modern Medical College | $45,000 | $30,000 | $15,000 | 75$ | $40 |
NOTE: The above-mentioned fee structure is the final amount to be paid by the student to Rus Education. This fee package includes Tuition fee, Hostel accommodation fee, medical insurance, remuneration to the center, MCI coaching for the complete duration of the course, airport transfer to the university, a phone call to parents on arrival in the university, study material in English Language, documentation of the student in the university, free translator to facilitate, and other services.