Medical education in India is known to sieve through the determined potential from the crowd. Though there may be bigotry opinions and shortcomings about the procedures of the same. It still remains a mandatory requirement for all the young medical aspirers of the country. Following this, after the class-12 board class, the students wishing to pursue their higher studies and careers in medicine or its related fields are required to qualify the National Eligibility cum Entrance Exam- Undergraduate, abbreviated as NEET-UG.
The exam is conducted by the National Testing Agency (NTA) in 13 languages for admission to 542 medical, 313 dental, 914 Ayush, and 47 BVSc and AH colleges in India, once every year. The exam is generally conducted in June, after the declaration of the class- 12 results, however, due to the past 2 years, the exam was conducted sometimes around September due to the pandemic.
Key Highlights For NEET UG 2022
| | |
| --- | --- |
| Exam Name | National Eligibility cum Entrance Exam- Undergraduate Level (NEET-UG) |
| Competent Authority | National Test Agency (NTA) |
| NEET 2022 | 17 July, 2022 |
| Level | Eligibility Exam |
| Frequence of exam | Once a year |
| Mode of Application | Online |
| Mode of Examination | Offline |
| Type of questions asked | MCQs |
| Language | 13 Indian language |
| Duration | 3 hours 20 minutes |
| Total number of questions asked | 180 |
| Negative marking | -1 for wrong answer |
| Total marks | 720 |
| Qualifying Marks | 50th percentile (for general) |
| Number of Attempts Allowed for NEET UG 2022 | No Restrictions |
Topics Discussed Below
What is NEET?↑
Before, the medical licensing exam in 2015 was conducted by the CBSE itself. It was named as All India Pre-Medical Test (AIPMT) which replaced the Pre-Medical Test (PMT). However, when the National Test Agency was established it took over, it replaced the pre-medical exams with the National Eligibility cum Entrance Exam (NEET).
Later on, the National Medical Commission Act, of 2019 received assent from the President on 08th August 2019. Section 14 of the National Medical Commission Act, 2019 provides for holding of a common and uniform National Eligibility-cum-Entrance Test (NEET) for admission to the undergraduate medical courses in all medical institutions including those governed under any other law, under NMC. Thus, admission to MBBS courses in AIIMS, New Delhi, JIPMER and all AIIMS like Institutions will also be made through NEET. (NMC Act, 2019)
The responsibility of NTA is limited to inviting online applications, the conduct of the entrance test, declaration of results and providing All India Rank to the Directorate General of Health Services, Ministry of Health and Family Welfare, Government of India.
Last year the NEET UG 2021 was conducted in 13 Indian languages- English, Hindi, Assamese, Bengali, Gujarati, Kannada, Malayalam, Marathi, Odia, Punjabi, Tamil, Telugu, and Urdu all over India. The NEET-UG 2021, for the very first time, was conducted outside India in the Test centres of Dubai and Kuwait.
What is the Eligibility For NEET-UG 2022?
NEET UG 2022 aspirants are advised to check if they fit into the criteria specified by NTA. To be eligible for NEET-UG 2022 the students must fulfil the following parameters:
Nationality:
Citizens or applicants belonging to the following nationalities are eligible to apply for NEET:
Indian Nationals
Non-Resident Indians (NRIs)
Overseas Citizen of India (OCI)
Persons with Indian Origin (PIO)
Foreign Nationals
Age Limit:
The age limit or age criteria for NEET students are as follows:
The minimum age of a candidate as of December 31, 2022, should be 17 years.
As per the latest announcement, there is no upper age limit to appear for NEET-UG
Minimum qualification:
Applicants should fulfil the educational qualification mentioned below:
Students must have cleared Class 12 or equivalent from a recognised institute and Board.
Students who are appearing for Class 12 or equivalent in 2022 can also apply for NEET 2022..
Mandatory subjects:
Students must have cleared Class 12 or equivalent with Physics, Chemistry and Biology.
Students who have passed Class 12 or equivalent with Biology as an additional subject are also eligible.
Read More: NEET-UG Update- NMC Removes Upper Age Limit To Appear For The Exam
NEET UG 2022 Important Dates & Events- Tentative
The following table brings the list of events related to NEET 2022 and the schedule for those.
| | | |
| --- | --- | --- |
| Events | Dates (Tentative) | Salient Features |
| NEET UG 2022 date announcement | 06 April 2022 | The date of the exam will be announced by NTA. |
| NEET 2022 application process | 06 April to 06 May 2022 (up to 11:50 PM) | Interested students can fill out the NEET 2022 application form with the fee. |
| NEET 2022 application correction window | To be intimated later on the website | Students can make necessary changes in the application form after the final submission. |
| NEET 2022 admit card | To be intimated later on the website | Students can download the NEET 2022 admit card by logging in with their registration credentials. |
| NEET 2022 exam date | 17 July 2022 (Sunday) | The exam will be conducted in a paper-pencil based mode or an offline mode for a duration of three hours, from 02:00 PM to 05:20 PM (IST). |
| NEET 2022 provisional answer keys | To be intimated later on the website | Students can check and download the provisional NEET answer keys and calculate their estimated score. |
| NEET 2022 final answer keys and result | To be intimated later on the website | The NEET result will be declared online through email and on the official website. students will have to login with their registration credentials to download the scorecard |
What is The Exam Pattern For NEET UG 2022?
As per the latest NEET 2022 exam pattern, the question paper will contain a set of 200 questions, out of which the students need to answer 180. The entire question paper will be divided into 4 categories, namely- Physics, Chemistry, Botany and Zoology. Each category is further divided into Section A and Section B.
Section A contains 35 questions whereas Section B would have 15 questions. All the questions in Section A are compulsory to attend, whereas, the students can choose any 10 out of the 15 questions in Section- B. As a result, the maximum number of attempted questions is 180.
NEET 2022 syllabus consists of all the major and minor topics of 10+2 levels for Physics, Chemistry and Biology.
NEET Exam Pattern 2022 – Important Details
| | |
| --- | --- |
| Salient Factors | Details |
| Mode of Exam | Pen and Paper-based (Offline) |
| Duration | 3 hours 20 minutes |
| Language | English, Hindi, Assamese, Bengali, Gujarati, Kannada, Marathi, Odia, Tamil, Telugu and Urdu |
| Subjects | Biology (Botany+Zoology), Physics and Chemistry |
| Level of NEET 2022 questions | 10+2 |
| Total Questions asked | 200 |
| Total Questions to be answered | 180 |
| Total Marks | 720 |
| Type of Questions | MCQs |
| Marks for a correct answer | 4 marks |
| Negative marking | -1 mark |
NEET UG Blueprint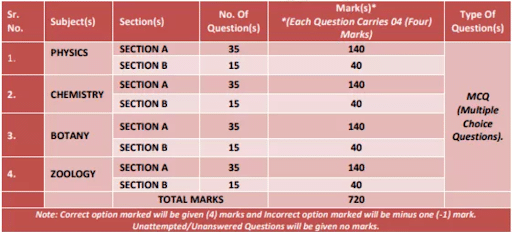 Image Credit- NEET UG 2021 Information Bulletin
How To Apply For NEET UG 2022?
| | |
| --- | --- |
| Mode of Application | Online |
| Mode of Payment | Net Banking | Credit Card | Debit Card | Other |
The application form for NEET 2022 will be filled in via the following steps.
Steps for NEET Registrations 2022
Step 1- Registration for NEET 2022:
Fill in personal details like name, parents' names, category, PWD status, gender, nationality, State of eligibility, identification details, mobile and email. students will need to create their own password for NEET 2022 here.
After successful NEET registration, a provisional application number will be generated. Students must save and use this NEET application number and password to log in and proceed to their application.
Step 2- Filling NEET Application Form:
While personal details will be auto-filled by the NTA system, students will have to input the medium of NEET question paper, four exam cities from the list provided, academic details (Class 10, 11 and 12), address- permanent and correspondence, dress code for students (in case of religious specifications) and other details.
What is the NEET 2022 qualifying code?
NTA requires all students to enter their Qualifying Code for NEET 2022. The following describes what to fill in the NEET 2022 qualifying code section.
How to choose a qualifying code in NEET?
Select 01 if the candidate is appearing for Class XII in 2022
Select 02 to 07 for those who have already passed their class 12 in 2022 or earlier.
Students who don't fall under the above must use "others" and enter details.
Step 3 – Upload Documents:
Scanned images of Photograph, Signature, Left Thumb Impression, and Class 10 Certificate as per below-given specifications. Check the NEET photo requirements 2022 to avoid rejection of the NEET 2022 application. All documents must be in JPG/ JPEG format only.
NEET UG 2022 – Documents To Be Uploaded With Application Form
| | | |
| --- | --- | --- |
| Documents | Specifications | Size and Format |
| Passport size photo | White background ; Name and date written below. | 10 to 200 KB |
| Postcard size ( 4" X6" ) | White background; name and date mentioned below. | 50 to 300 KB |
| Signature | Black ink on white paper must not be in capital letters | 4 to 30 KB |
| Left-hand thumb impression | In blue ink on white paper with no smudges | 10 to 50 KB |
| Certificate | Class X Passing Certificate | 100 to 400 KB |
Step 4- Pay NEET 2022 Application fee:
Payable through Debit/Credit card/ Netbanking/ UPI – State Bank of India/Syndicate Bank/HDFC Bank/ICICI Bank/Paytm
| | |
| --- | --- |
| Category | Fee + GST |
| General | Rs 1600 |
| OBC NCL/ Gen -EWS | Rs 1500 |
| SC/ST/PWD/Transgender | Rs 900 |
Step 5- Take a printout of the confirmation page:
Students must save a copy of the confirmation page for the NEET exam 2022.
Important Tip: Keep 6 to 8 photographs for NEET 2022 exam day attendance sheet, admit card and medical admissions.
Steps to edit/update NEET application 2022
Once NTA has opened the editing/correction window for the NEET UG 2022, the students can edit their details following the steps listed below.
Visit the NTA NEET website, neet.nta.nic.in.
Then, click on the edit NEET 2022 Application form.
Select the field you wish to edit.
Upload the edited documents/details
Go through all the filled-in details again
After varying all the details, click on the "Submit" button.
Read More: NEET UG 2022 Update- Confirmation Page Available At Digilocker
What Is The Syllabus NEET-UG 2022?
The NEET 2022 syllabus comprises three subjects, namely Physics, Chemistry and Biology. The syllabus is the same as that of CBSE Class 11 and Class 12.
NEET Exam 2022 Pattern: Marks Distribution
| | | |
| --- | --- | --- |
| Subjects | Number of Questions | Maximum Marks |
| Physics | 45 | 180 |
| Chemistry | 45 | 180 |
| Botany | 45 | 180 |
| Zoology | 45 | 180 |
| Total | 180 | 720 |
How To Prepare For NEET UG 2022?
Students preparing for NEET 2022 should first be familiar with the exam pattern and syllabus. After that, they need to shortlist the books to refer to for NEET 2022 preparation. To complete the topics in the syllabus, the experts claim NCERT books are a go-to. Students must prepare a timetable for NEET preparation. This should be followed to complete the preparation on time.
Another important aspect of NEET-UG preparation is solving mock tests and sample papers to enhance the skills required for the exam. Since the weightage of all sections is equal in the exam, aspirants should give equal focus on all sections or subjects to secure a balanced score.
Read More: 5 Essential Skills To Master For The NEET-UG
NEET UG 2022 Mock Test
NEET mock tests are generally released by NTA to help aspirants prepare for the exam. The mock tests can be taken in online mode, although the actual exam is conducted in offline or paper-pencil based mode. students can take offline mock tests for the exam which are conducted by the coaching institutes to assess their preparation.
After taking the mock test, it is necessary to analyze it to understand the gaps and improve their performance by changing the preparation strategy accordingly. The mock tests are of various difficulty levels. The difficulty level of the questions in these mock tests ranges from very easy to difficult. Students who solve the mock tests gain experience in solving a variety of questions thus preparing them for the exam day.
NEET UG 2022 Admit Card
The NEET 2022 admit card is expected to be released a week before the exam in online mode. To download the NEET admit card 2022, registered students will have to log in to the official website with their NEET 2022 application number/Roll Number and password and download the hall ticket in PDF format.
After downloading the admit card, the students would have to take a printout of the same and paste a recent postcard-sized photograph (preferably the same as the one uploaded with the application form) in the space provided in 4″x6″ dimensions. Also, students have to get it signed by a parent/guardian before the document verification.
NEET 2022 Dress Code
Due to a large number of test-takers, the NTA follows strict policies to maintain the discipline and fairness of NEET. One of the important policies is the dress code for NEET 2022. Below are a few important points about the dress code for NEET UG 2022:
Prefer light coloured clothes with half sleeves over long/full sleeves tops/tees/blouses
Avoid carrying ornaments such as earrings, necklaces with pendants, rings, anklets, etc.
students wearing a customary dress pertaining to any religion have to report to the examination centre at least an hour before the last reporting time
Choose slippers and sandals with low heels over closed shoes and footwear
NEET UG 2022 Answer Keys
NEET answer keys refer to the correct answer choice for each question of the exam. By utilizing the marking scheme, test-takers can calculate an estimated score. The NEET 2022 answer key will be released both officially and unofficially. On the day of the NEET 2022 exam, coaching institutes will release unofficial NEET answer keys, which can be used to calculate an estimated score.
NTA will release the provisional answer keys of NEET 2022 within a month of conducting the test. students can submit objections or challenge one or more NEET 2022 answer key by paying a fee of INR 1,000 per question. The final NEET answer key will be released along with the result.
NEET-UG 2022 Result
NEET result 2022 is likely to be released in the fourth week of July. It is likely that the NEET 2022 scorecard will be sent to students via email and then on the official website. To download the NEET 2022 result, students will have to log in through NEET application number and date of birth. The NEET result or scorecard will carry test takers' subject-wise and overall scores, percentile and All India Rank (AIR).
| | |
| --- | --- |
| Category | Qualifying Cut Off |
| Unreserved category | 50th |
| Unreserved category PwD | 45th |
| Reserved category (including reserved category PwD) | 40th |
NEET UG 2022 Admission Process
Counselling for NEET 2022 will begin within one month of the results being declared. 15% of All India Quota (AIQ) seats and 85% of State Quota seats will be available for NEET counselling in 2022. The Medical Counseling Committee (MCC) AIQ counselling process and the State Counseling for NEET 2022 – there will be four rounds of counselling, Round 1, Round 2, mop-up round and stray-vacancy round.
After the release of the NEET 2022 counselling notification, all the qualified students will have to register by filling up the form, uploading the necessary documents and paying the registration fee, etc. Once the seat allocation order is released, students will have to download it and report to the institute and complete the admission formalities to claim the seat.
They may not accept the seat in the first round and participate in the second round for upgrading their seat. In case students are not allotted a seat in both rounds, they will be eligible to participate in the mop-up and stray-vacancy rounds.
Courses Offered Through NEET
NEET UG is the gateway to admission to multiple medical and paramedical courses:
MBBS
BDS
Ayurvedic Medicine
Homeopathy Medicine
Unani Medicine
Siddha Medicine
Veterinary Sciences and Animal Husbandry
BSc (Hons) Nursing
Bachelor of Physiotherapy
Bachelor of Occupational Therapy
Bachelor of Audiology, Speech and Language Pathology
Bachelor of Prosthetics and Orthotics.
In India, there are a total of 542 Medical, 313 Dental,914 AYUSH, and 47 BVSc & AH colleges that will accept NEET 2021 scores. There are a total of 15 AIIMS and two JIPMER campuses that also accept this exam score for admission. This year, BSc (Hons) Nursing course admission will also take place through NEET but the seat matrix is yet to be released.
Frequently Asked Questions For NEET 2022↑
When will the NEET 2022 exam be conducted?
NEET 2022 exam date is yet to be announced.
Can I apply for NEET 2022, If I get a compartment in 12th class?
Yes, Compartment students can apply for the NEET exam 2022. But, they have to produce the 12th class pass certificate and need to obtain the required percentage of marks.
Can I change my preferences for the NEET 2022 exam centre?
Yes, you can edit your NEET exam centre preferences. NTA will provide a chance to edit the exam centre preferences.
How many seats will be filled through NEET?
A total of 82,065 MBBS and 26,949 BDS seats will be filled through NEET.
What are the steps to download the NEET 2022 exam results?
In order to download NEET result 2022, students will have to enter the roll number, date of birth, and security pin.