NTA will soon be releasing its results for NEET-UG 2021 Exams. The students are highly anticipating this to fulfill their life goal of becoming a doctor. As per the current practicing eligibility criteria, any student studying MBBS whether in India or abroad has to qualify for the NEET exam.
Several students find themselves in a dilemma of how to proceed once their result is out. The lack of guidance often causes many students to drop their aim and make them settle for a lot less.
The first thing the students have to keep in mind is that though NEET is important to study MBBS, it is not the end of the world. The student must never get distraught and take drastic measures due to the fear of not performing well in the deciding exam. It is always disheartening to hear the newsflash every time a student gives in to fear and pressure which at times is self-imposed.
So, it is always better to have the wider picture, pieced together before navigating the way from giving the NEET exam to the goal of becoming a doctor.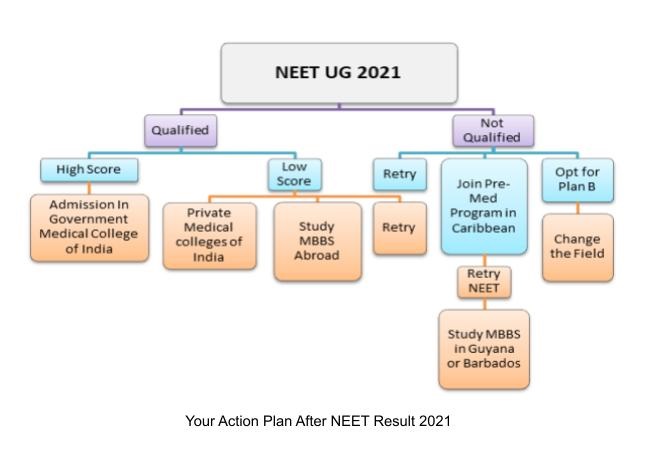 Case-1: When All is Well So Start With The Best.
If you have qualified for the NEET UG exam with flying colors and can certainly appear for the admission counseling sessions for admission in the government medical university of India, then there is nothing much for you to worry about. The course of study is often within budget. This is the best option if you want to practice in India, as you can get a real time exposure to all the professional and practical skills essential to the fieldwork.
Studying MBBS in a government medical college of India often gives abundant and real-time exposure to the students and a closer look at the native health concerns and their solutions faced by the locals. All this effortlessly molded the new age doctors to the specific needs and strategies required when dealing with the patients.
Case-2: Missed The Mark By A Few Marks
In case, you might feel you missed the marks with just a few steps, the sorrow for the same might get all too real. If you also have missed the cut-off by just a few numbers, you can always try to appear for the same exam, next year as well. However, there is no assurity what would be cut off next year and whether you would be able to cross.
Retrying, in this case, is an absolute gamble which may or may not provide you with the desired result.
You can choose to study MBBS in any private medical university in India as well. But you must have piles of money for donations, fees, and other covert charges. This also includes at times non-essential and miscellaneous charges for festive and cultural events. It is to be noted that not many can afford to study in these medical universities despite being well qualified and well skilled.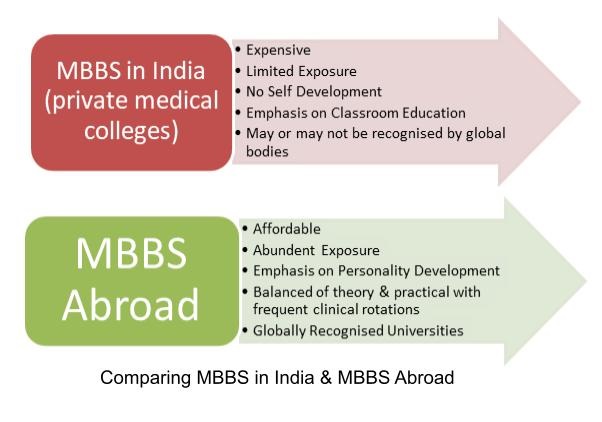 Another, alternative option for the students is studying MBBS abroad. It is generally believed to be a better option for the students who could not reserve their seats in the government medical colleges of India and do not wish to waste another year by reappearing in the NEET Exam to improve their rank.
Read More: Why Study MBBS Abroad?
Several countries for MBBS are usually considered as more affordable for the Indian students and hence have been gaining popularity for the past few decades. Countries like Russia, Ukraine, Kyrgyzstan, Bangladesh, Kazakhstan are witnessing an increased intake of Indian students in their medical courses.
MBBS in Russia often is considered among the unlimited options the world offers for the students seeking MBBS abroad. The country not only has an affordable fee structure for medical studies but also a feasible way to live. It has several extraordinary universities with marvelous educational facilities, several universities with legacies as old as centuries but still withholding positions among the top medical universities of the world, abundant exposure to various global practices and research related to medicine, and so on. In subsequent to that, the strong and strategic relations between both the countries have already warmed their locals' cultures and beliefs. This makes Russia an incredibly popular destination for medical education for Indian students. Every year, we witness the departure of a few more thousand students to study in the top government medical university of Russia.
Read More: Practice in India after MBBS in Russia
Case 3: Great Efforts But Unsatisfactory Results.
At times, we often find it to deal with unsatisfactory results even after giving our best shot. You have prepared for the exam for so long and if you were not able to qualify for the exam in this attempt, feeling depressed or distraught for a while is obvious. However, you must learn to get over it and start once again. You may join the coaching classes for better support as well as professional assistance with the recent exam development.
Read More: NEET or NO NEET? Still a Question
These days another alternative is emerging among the young generation of upcoming doctors. A considerable number of students are boarding their flights to study MBBS in Caribbean Island. Countries like Guyana and Barbados provide a pre-medical program, where the students can take admission without NEET, get accustomed to university life for a year in India, at the same time prepare for the upcoming NEET exam. Once qualifying for the exam, the students can join the university for their further studies. Unlike most of the universities abroad offering 6 years of MBBS course, MBBS in Caribbean can be completed in 5 years.
All in all, studying MBBS in the top universities of Caribbean, saves you from wasting a year for the NEET prep and then starting from the first year after clearing it as well as a year in the overall course duration. No matter how great this sounds, MBBS in the Caribbean is specifically popular for its US-based curriculum and preparing for USMLE (US Residency Exam), therefore promising great scope to all those who wish to pursue their career in the USA.
Case 4: If No Way In Then It's The Way Out.
As the unbridled choice of lakhs of medical students, every year, turns out to be, opting for a second choice or simply the Plan B, if the student does not qualify for the NEET exam, is to settle down for something less or totally different from their interests. This choice can be referred to at any point including even after qualifying the exam and not getting the medical seat in their desired medical university.
Read More: 8 Fields Of Career Medicine That Are NOT MBBS
Studying medicine demands devotion, dedication, and a tinge of desperation from the very first stage. It demands you to fight tooth and nail for it, as it all will be worth it, in the end.
Conclusion
Life after your NEET result can be a cakewalk or a wander in the maze, where the chances of getting lost are extremely high. Many a time you might think of giving up and quitting altogether. Lack of wise decisions on your part can also get you tangled and waste your time, efforts as well as money.
The above strategies and cases are a generalized way, however, what to know what suits you the best depending on your score and performance in the NEET exam, one can get a personal counseling session with the much involved and highly experienced counselors of Rus Education, who have been guiding the students to their journey of becoming a doctor for the past 3 decades.
To book a personal counseling session, the students can ring us at our student helpline number 1800-833-3338 or visit the nearest office of Rus Education at the time of their convenience.
Found this helpful? Do not keep it to yourself. Share it with your friends and you might be a part of their success story someday!
Read More: Top 3 Universities To Consider For Your Medical Study in Russia
5 Important Questions To Ask For Your MBBS Abroad
Read More: Advantages of Studying MBBS in Russia