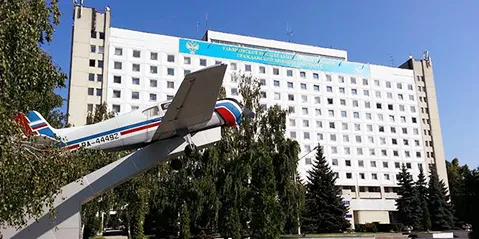 Ulyanovsk Institute of Civil Aviation
About University
The Ulyanovsk Civil Aviation Institute is the oldest flight school for civil pilots training in Russia. All the activities of the Institute had started in 1935 in Bataysk. The governing body of the institute involves - the Scientific Council of the Institute and Conference of employees and Students of the institute.
Educational activities at the institute are conducted in English Language. The institute offers training/education in following subjects -
Organization of Flight Work,
Airspace Organization,
Flight Operation of Civil Aircraft,
Aviation Security and many others.
There is an availability of Simulator Training Centre which is the structural unit of Ulyanovsk Civil Aviation Institute (formed in 2004) which is based on Department of Qualification increasing and retraining of aviation specialists. It involves many full flight simulators like FNPT Boeing-737NG, FFS A320, and others.
Military training of the cadets of the Institute is considered to be an integral part of the education course and is carried out in unity with their ideological and patriotic education & professional training.
Nowadays, Ulyanovsk Civil Aviation Institute uses a DA40 aircraft for primary flight training as a single-engine aeroplane, and a DA42 for secondary flight training as a double-engine aeroplane.
Civil Aviation pilot with qualification "engineer"
Air Traffic controller with qualification "engineer"
Search-and-Rescue specialist of CA with qualification "engineer-bachelor"
Flight Safety specialist with qualification "engineer-bachelor"
Quality control specialist
Safety of technological processes specialist
Aircraft fuel and refueling specialist
The Institute has accommodation facility at multiple Hostels.
Under the operational management of the hotel-housing complex, there are availability of four hostels. It comprises of dormitories with have furnished rooms including washing machines & ironing boards with all the necessary equipments.
The Institute holds the ownership of Scientific and Technical Library UI GA, which is one of the unique university libraries, having specialized literature on civil aviation.
Institute also has a museum which is a unique exhibition of domestic aircraft and helicopters of civil aviation, deployed in the area of the airfield "Ulyanovsk (Barataevka)" of about 18 hectares.