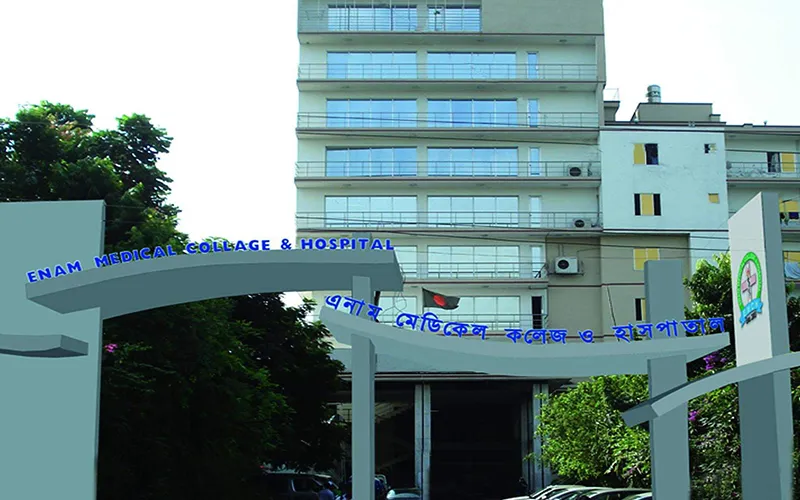 Enam Medical College and Hospital
ABOUT UNIVERSITY
Enam Medical College is one of the best and renowned medical colleges offering MBBS at an affordable cost to all students who are planning to study MBBS in Bangladesh. The college was established in 2003, matching up all the criteria proposed by the Ministry of Health and Family Welfare, University of Dhaka and Bangladesh Medical & Dental Council.
The College is recognized by the Medical Council of India (MCI), Bangladesh Dental & Medical Council, University of Dhaka, FAIMER, IMED, and other medical council bodies and is enlisted with WDOMS (World Directory of Medical Schools).
The College is known for its high quality medical education along with the professional development of the medical students. The faculties are highly qualified and experienced. Enam Medical College and Hospital is favorable among Indian students because the college uses the English language as the medium of instruction. Every year, the college reserves 25% of the total seats for international students.
Faculty of General Medicine (MBBS)
The college offers comfortable and cozy accommodations to all international students studying MBBS. The rooms are provided on twin sharing basis of the same gender. All the rooms are fully furnished and are equipped with all the modern facilities such as central heating and cooling system, laundry facility and Indian mess in the hostel.Shopping complexes, restaurants, cafeterias, and bus stops are all at a walking distance from the hostel.
The college believes in the holistic development of every student, therefore to keep students physically fit and active the college organizes various sports tournaments and encourage students to participate in them. Apart from sports activities, various cultural programs are organized on a regular basis. All the major Indian festivals like Holi, Diwali, Eid and other festivals are celebrated in the college.
NAME OF COLLEGE
TOTAL TUITION OF 5 YEARS
1st YEAR FEE
2ND TO 5TH YEAR TOTAL FEE PAY IN INSTALLMENTS
HOSTEL/ MONTH
CHARGE
MESS/ MONTH
CHARGE
Enam Medical College and Hospital, Dhaka
40,000$
20,000$
20,000$
100$/montd
60$/montd
NOTE: The above-mentioned fee structure is the final amount to be paid by the student to Rus Education. This fee package includes Tuition fee, Hostel accommodation fee, medical insurance, remuneration to the center, MCI coaching for the complete duration of the course, airport transfer to the university, a phone call to parents on arrival in the university, study material in English Language, documentation of the student in the university, free translator to facilitate, and other services.