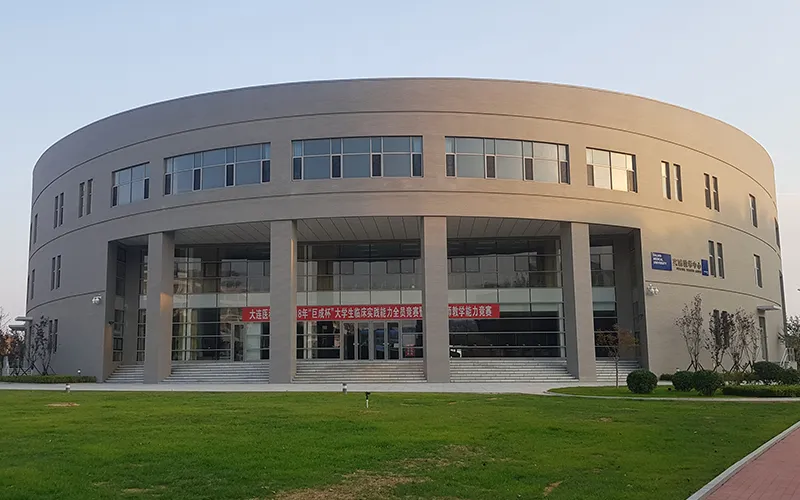 Dalian Medical University
About University
Dalian Medical University is the largest medical university in China which enrolls the most MBBS Admissions in China with Europe international students, as much as 1500 from above 50 countries in degree programs. Dalian Medical University is a university in Dalian, Liaoning, China under the provincial government. Dalian is the second largest city of Liaoning Province, after Shenyang, the provincial capital. Dalian City is governed by the Mayor and its Dalian Municipal People's Government.
It was founded in the year 1947 in the southern part of Dalian city, China by Mao Ze Dong. In 1949, it joined with Dalian University and the name was changed into the Medical College of Dalian University. In 1950, the organizational system of Dalian University was canceled and since then Dalian Medical College had become an independent college. In 1969, the college moved to Zunyi, a city of Guizhou Province, to establish the Zunyi Medical College. And in 1978, the college moved back to its original location in Dalian, still with the name of Dalian Medical College. In 1994, approved by the State Education Commission MBBS Admission in China Europe (SEC), DMU adopted its present name. In October 2007, it moved to the new campus in Lushunkou District, Dalian, which is across Lushun South Road from Dalian University of Foreign Languages' new campus. Nowadays, the university has fledged into a multi-disciplinary medical university which also offers programs in other fields like arts, science, management, and law.
This program is available for both English and Chinese Medium. DMU is recognized by WHO and the graduates of MBBS program are eligible to take the Medical Licensing Examinations held by the medical councils in different countries such as MCI, PMDC, USMLE, HPCSA, SCHS etc.
The MBBS program for international students in DMU was MBBS Admission in China Europe set in 2004 and in 2007 the MOE declared it as the qualified university to offer English-taught MBBS program. Besides, it can be taught in English and Japanese upon students' choice. According to the framework agreement on degree accreditation between MOE of China and other countries, the degree awarded by DMU is recognized in 31 countries. In addition, the university also signed agreements with medical associations in Thailand, Ghana, and Sri Lanka.
The university occupies an area of 338,800 square meters with the built-up area of 269,300 square meters. There is over 4,400 staff, including 500 professors and 510 associate professors. The total number of students is almost 10,000, including 4,000 undergraduates, 4000 Adult Education students, 400 nursing students and 300 graduate students. It offers training programs in 13 specialties. Four of its departments are to give doctorates and 29 departments to give masters degrees. Organizationally, it has 12 colleges, 4 teaching Departments, 3 divisions, and 33 off-campus-teaching sites for the internship, in addition to an affiliated Nursing School and a Vocational High School.
The university now has 25 management organizations, 14 second-level schools, 5 affiliated hospitals, 4 directly affiliated organizations, 3 of which are indirectly under the university, and 38 clinical teaching bases. Each hospital has its own features. The First Teaching Hospital is the biggest comprehensive one and is the Emergency Center in South Liaoning Province. The Second Teaching Hospital was among the first group approved by the International Exchange Center of the Ministry of Health to be one of International Network Emergency Hospital.
MBBS Fee of Dalian Medical University, China
Fees 1st year
Hostel Per Year
Onetime Charges
Misc. Charges(per year)
Total 1st year charges
Total 2nd to 5th year
Total 5 years Fee
RMB
In Rs.
RMB
In Rs.
RMB
In Rs.
RMB
In Rs.
RMB
In Rs.
RMB
In Rs.
RMB
In Rs.
42000
420000
8000
80000
800
8000
2500
25000
53300
533000
52500
525000
263300
2633000
1 RMB= Indian 10/- (Approx. For calculation purpose). →Rate is used for calculations purpose → the student has to pay as per the rate from time to time & as mentioned in admission letter. →Food Expenses as per individual students need →One time charges & Misc. Charges include physical Examination, Registration fees, health Insurance, Books & study Material,Residenc Permit. →The Fees Structure may change as per direction of the university form time to time. →Hostel Charge depends on the available rooms/accomation type.→Though due care is taken while perparing this fee structure chart there may be changes in the fees depending on the circumstances and university updates, kindly confirm the university details and fee details form you reliable sources, →Before leaving for China the student is needed to convert the first year expenses to be paid to Universityes in RMB through Rus Education..
NOTE: The above-mentioned fee structure is the final amount to be paid by the student to Rus Education. This fee package includes Tuition fee, Hostel accommodation fee, medical insurance, remuneration to the center, MCI coaching for the complete duration of the course, airport transfer to the university, a phone call to parents on arrival in the university, study material in English Language, documentation of the student in the university, free translator to facilitate, and other services.