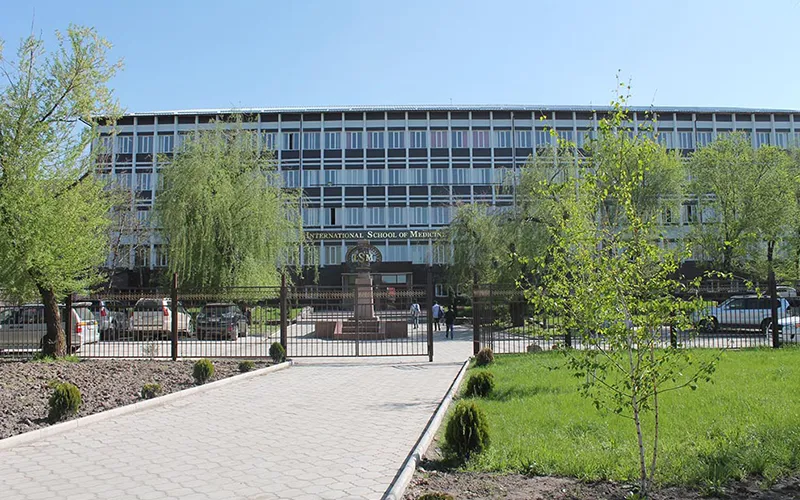 International School of Medicine
About University
International School of Medicine (ISM) was established in 2003 as per the named after B.Osmonov, is a government university offering MBBS in Kyrgyzstan. The university was founded on April 2, 1993, with an aim of providing the best medical education and training to all medical aspirants of Kyrgyzstan and from different countries of the world including India. Another objective of the university is to educate medical aspirants at an affordable cost.
International School of Medicine is affiliated with the Ministry of Health and Science Education of Kyrgyzstan. It is also approved by the National Medical Commission (NMC) and enlisted with the World Directory of Medical Schools (WDOMS), and also recognized and approved by other medical institutions of the world.
JASU has state-of-the-art infrastructure and modern technologies to educate and train medical students to become excellent doctors and medical professionals to serve humanity. Currently, more than 3,300 students are pursuing MBBS in Kyrgyzstan at the university including Indian students.
At JASU, the medical faculty conducts scientific work in all areas of medicine, chemistry, biology, and morphology. It has facilities that include well-equipped laboratories, lecture halls, library, and clinical facilities that allow students to explore and experience real-life medical situations. It is currently affiliated with more than 27 clinics and hospitals for the clinical training of students.
The university has more than 164 well-trained, highly qualified medical professors and doctors of sciences delivering quality education to the medical students at the university through lectures and practical and clinical training and research. Among the renowned professors, 3 Honored Doctors of the Kyrgyz Republic, 1 Honored Health Worker. 1 Honored Worker of Education. 15 teachers have the badge "Excellent Health Worker of the Kyrgyz Republic."
At JASU, students enjoy safe and comfortable accommodation with access to all the basic amenities. Students are encouraged to engage in extracurricular activities such as sports, cultural events, and student organizations for their holistic development.
General Medicine (MBBS)
Faculty of Nursing
Overview of MBBS At International School of Medicine, Kyrgyzstan
University Recognitions
Ministry of Health and Science Education of Kyrgyzstan, World Directory of Medical Schools (WDOMS), Educational Commission for Foreign Medical Graduates (ECFMG), Foundation for Advancement of International Medical Education and Research (FAIMER), National Medical Commission (NMC)
Medium of Teaching
English
MBBS Course Duration
6 years (including internship)
Eligibility Criteria

Minimum 50% aggregate score in PCB subjects.
Minimum 17 years of age as of 31st December in the admission year.
Qualifying NEET score.

NEET Required
Mandatory
Requirement of IELTS/TOEFL
No
Academic Session
September
Why Study MBBS at International School of Medicine, Kyrgyzstan?
International School of Medicine has been one of the top medical universities for MBBS in Kyrgyzstan for Indian students
MBBS in Kyrgyzstan for Indian students is approved by NMC
No donations or hidden fees
No entrance test for admission to the university
MBBS in Kyrgyzstan for International students within budget.
Top-notch MBBS Degree
English Medium of instruction
Hands-on experience and helps students develop their critical thinking and problem-solving skills.
Excellent teaching staff and renowned Doctors.
State-of-the-art classrooms using modern technologies to support students' learning
Laboratories for scientific research and diagnostic centers, and other medical facilities.
Library with a remarkable collection of books, literature, and more, for the academic interest of the students.
Students have access to state-of-the-art facilities and equipment for their academic training.
International exposure of the students at several universities and research institutions worldwide.
Social, cultural and humanitarian activities are organized.
Graduates can practice medicine anywhere post qualifying the Medical Licensing Examination of the country.
Eligibility Criteria for MBBS Admissions to International School of Medicine
Students aspiring to take admission at International School of Medicine for MBBS in Kyrgyzstan must fulfill the following conditions as stated by the National Medical Commission:
Age requirement: A student must be aged between 17-25 years in the admission year.
Academic requirement: A student must have at least 50% aggregate marks in PCB subjects in 12th standard.
NEET requirement: A student should have a qualifying NEET score and a valid NEET scorecard.
Step-by-step Admission Process
Below is the admission procedure for MBBS at International School of Medicine:
Step 1: Fill and submit the application form of the medical university along with the necessary documents.
Step 2: Get the admission letter from the university.
Step 3: Apply for a visa and submit the original passport and other required documents.
Step 4: Make a payment of the first-year tuition fee. In case you want to avail an education loan, Rus Education can help you.
Step 5: Once you receive your visa, prepare for your travel to Kyrgyzstan.
Step 6: Board your flights to Kyrgyzstan.
Documents Required For Admission
Birth certificate
10th mark sheet and certificate
11th mark sheet
12th mark sheet and certificate
Migration Certificate
Original passport
Medical Reports including HIV test report
Passport size photos
Official invitation letter from the university
NEET Scorecard
Visa application form
Documents such as the admission letter from the university, converted currencies, etc., will be facilitated by the team of Rus Education.
Student Life At International School of Medicine
ISM has excellent facilities for sports and leisure. There are various extra-curricular activities which include libraries, internet rooms, sport sections, theatres. The faculty of ISM conducts cultural as well as organizational work with students such as excursions to museums, going to theaters, sightseeing in Kyrgyzstan, and trips to mountains.
ISM provides accommodation in hostels with all modern facilities. Hostels hav
Bishkek - City at a Glance
Bishkek is the capital and largest city of Kyrgyzstan.
It is situated near the Kazakhstan and Kyrgyzstan border
Bishkek is the center of finance of Kyrgyzstan with 21 commercial bank headquarters located in the region.
The country has a humid continental climate with cold winter and hot and dry summer, punctuated by the occasional thunderstorms.
Bishkek is home to many well-known educational institutions of Kyrgyzstan.
Most popular places in Bishkek:

-> Ala Too Square
-> State History Museum
-> Victory Square
-> Oak Park
-> Aqua Park Ala-Too
| | | | | | |
| --- | --- | --- | --- | --- | --- |
| Description | 1st Year | 2nd Year | 3rd Year | 4th Year | 5th Year |
| Tution Fee | 6500$ | 4500$ | 4500$ | 4500$ | 4500$ |
| Food and Accomadation | 2100$ | Optional | Optional | Optional | Optional |
| Medical Assistance | 100$ | 100$ | 100$ | 100$ | 100$ |
| Refundable Security Deposit | 350$ | N/A | N/A | N/A | N/A |
| Processing Fee | Rs 75000 | N/A | N/A | N/A | N/A |
| Consultant Service Charges | Rs 125000 | N/A | N/A | N/A | N/A |
NOTE: The above-mentioned fee structure is the final amount to be paid by the student to Rus Education. This fee package includes Tuition fee, Hostel accommodation fee, medical insurance, remuneration to the center, MCI coaching for the complete duration of the course, airport transfer to the university, a phone call to parents on arrival in the university, study material in English Language, documentation of the student in the university, free translator to facilitate, and other services.