Yesterday evening, Honourable Prime Minister Narender Modi held a meeting with the education secretaries and other decision-makers to discuss the board exams for Class 12.
In the previous few months, many state boards have already made the decision to cancel the class 10 board exam and promote the students to the next class on a performance basis. The Central Board of Secondary Education has earlier issued the notice stating that students of Class 10 would be promoted on the basis of the internal assessments. In the same regard, the issued statement stated," The results of Class Xth board will be prepared on an objective criterion to be developed by the board. Any student who is not satisfied with the marks allocated to him/her on this basis will be given an opportunity to sit in an exam and when the conditions are conducive to hold the examination."
However, the final decision about the Class 12 Board exam was scheduled to be taken on June 1, 2021. Earlier there were talks between the education secretaries proposing alternate ways of conducting the examination like shortening the length of the exam, conducting it only for a few core subjects, etc. It was all in all speculated that the Class 12 Board Exams for 2021 would be witnessing a change in the examination pattern.
Since the second wave of the pandemic in India is still not under control, conducting the examination in such a situation can prove to be disastrous for the country's youth and certainly not in the favour of either students or teachers. Therefore, in yesterday's meeting after much deliberation, it was decided that the 2021 board exams for class 12 should be cancelled.
The PM informed the waiting parents, students and teachers about the same via his Twitter account.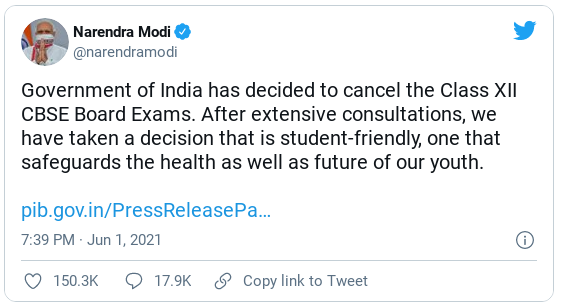 Following the same order, the CBSE had released another notice informing the stakeholders about the class 12 exam. The notification date 1 June 2021, states, "The class 12 assessment will be made as per well-defined objective criteria in a time-bound manner. It is decided that the students who are not satisfied with the assessments, an option to appear in the examination would be provided by the CBSE as and when the situation becomes conducive."
The students though understand the stand of government but are still worried as they would be required to attempt competitive exams like NEET. The decision of NTA regarding the eligibility criteria of the UG Entrance exams is still awaited.