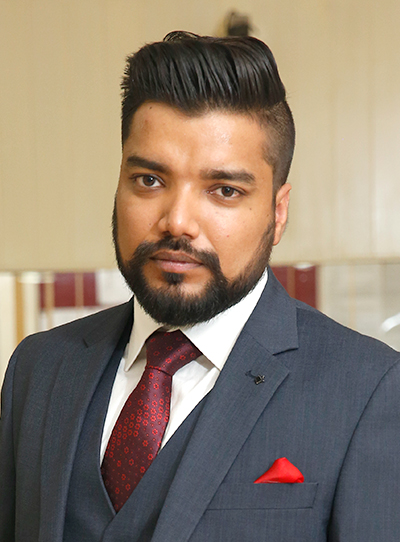 Dr. Dinesh Singla
Director
Seeing young and beautiful minds of India heading towards the noblest profession in the world makes me proud and gives me immense happiness. I just want to say that you people are the future of India and you are only one who can change the Indian healthcare system. Be a great doctor who is always ready to serve its nation and its people. Never feel hesitant to accept challenges as these challenges will bring the best out of you and will make you shine. So my dear students, stay dedicated and committed to your goals.

Remarkably high-spirited and result oriented with hands-on exposure on multi-functional activities related to Indian medical students heading abroad to pursue their medical education, Dr Dinesh Singla is heading the Director position at Rus Education. Proven track record to decide numerous complex and uncertain conditions, Dr Singla has always been efficient in bringing robust transformation in the management.
Born in the province of Punjab in a middle-class family, Dr Dinesh Singla is a proud alumnus of Tver State Medical Academy, Russia. After completing his schooling from St. Joseph Senior Secondary School, Jalandhar in 2003, he enrolled himself in Tver State Medical Academy to pursue his dream career of becoming a doctor. He completed his MBBS in 2009 and the same year he applied for his post-graduation in the Department of Pathology in Tver State Medical University.
With a pleasing personality and a solid team player peculiarities, Dr Singla was appointed as the President of Indian Students' Association at Tver State Medical Academy during his graduation years.
In the year 2011, he was bestowed with a degree of Postgraduate specialist in the Department of Pathology. To further continue his medical education, he enrolled for Ph.D Program in the Department of Preventive and Social Medicine from Orenburg State Medical University, Russia. Dr Singla has also worked as an Assistant Lecturer in the Department of Preventive and Social Medicine at Tver State Medical University and Orenburg State Medical University.
Dr Singla has served the position of the Vice-Chancellor for Foreign Affairs at Tver State Medical University from 2009-2014 and was also appointed as the Advisor Dean for Foreign Students at Orenburg State Medical University from 2014-2017.
As an Advisor to Dean for Foreign Students, he closely worked on grass root level with the foreign students coming to Russia for their higher education at Orenburg State Medical University. He played a major role in supporting and encouraging foreign students who encountered any kind of complication or difficulty both in their Academics and in their daily life. He has been a great source of help and motivation to all foreign students during his service period.
Dr Dinesh Singla is a team player with powerful analytical skills which makes him favourable among his team. With his experience in handling critical activities independently and quick thinking capability, he is committed to taking Rus Education to great heights.
As sports enthusiasts, Dr Singla has a keen interest in Basketball and Volleyball. During his school days and graduation days in Russia, he has won various championships and tournaments in the above-mentioned sports.