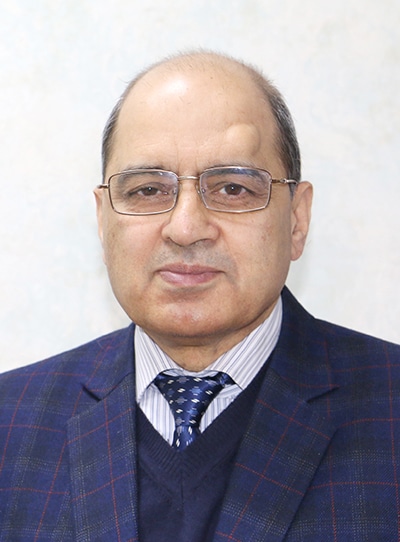 Air Marshal (Dr) Pawan Kapoor
Vice-Chairman
Our only mission is to create a platform to produce qualified, innovative and progressive doctors who will aim hard for the cause of betterment of the health care delivery to those who need it the most. Our responsibility begins from day one when you get in contact with us. We assure you that you will always found us working with you and walking by you through each day and all through the years that you will be spending in the medical universities of Russia. We promise that our highly skilled and trained management will always be there to enlighten you and guide you in achieving your dream of becoming a successful doctor!

Air Marshal (Dr) Pawan Kapoor, AVSM, VSM, and BAR (Retd), Former Director-General of Medical Services (IAF) assumed the designation of Vice-Chairman of Rus Education after retiring from the Indian Armed Forces Medical Services as Director General of Medical Services (Indian Air Force) on December 31, 2017.
He is a proud alumnus of the Armed Forces Medical College (AFMC) and was ordained into the Army Medical Corps (AMC) on October 10, 1979. He holds a Postgraduate degree in Hospital Administration from the esteemed and reputed All India Institute of Medical Sciences (AIIMS), New Delhi. Diplomate of National Board (Health & Hospital Administration) from National Board of Examinations (NBE), Diploma in Hospital and Health Management (DHHM), Masters in Management Studies (MMS) from Osmania University, MBA from IGNOU and M. Phil. (Defence and Strategic Management) are his other qualifications.
There is more than 40 scientific publication in various journals credited under his name. Not only journals, but he had also written more than 10 chapters in many books to his credit. During his army career, he has held several professional and administrative appointments in the Armed Forces Medical Services.
For his remarkable services, Air Marshal (Dr) Pawan Kapoor was bestowed with the Vishisht Seva Medal in 2009 and 2017, COAS Commendation in 1981, 2004, 2008, Ati Vishisht Seva Medal in 2018, and His Order of Royal Emblem from Sultan of Oman in 1984. Air Marshal (Dr) Pawan Kapoor had held the appointment of Honorary Surgeon to the President of India with effect from July 01, 2016 till December 31, 2017. He had also held the appointment of Commodore Commandant of Aerospace Medicine with effect from July 01, 2016 till December 31, 2017 and was the President of Indian Society of Aerospace Medicine during the same duration of time.
Air Marshall (Dr) Pawan Kapoor is a Hospital Administrator of national and international repute. He is one of the founder members of the National Accreditation Board for Hospitals and Healthcare Providers (NABH) and has been holding appointments as Chairman of the Technical Committee and Chairman Accreditation Committee of NABH. He is also a member of the International Society for Quality in Health Care (ISQua) and is also an international analyser for them.